BrewDog slammed over 'tone deaf' beer for girls campaign
The Scots firm claims the launch of Pink IPA is a satire of sexist marketing from other brands.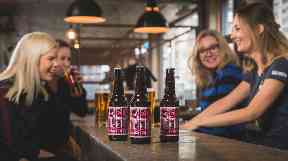 Beer-maker BrewDog has been branded "tone deaf" after its new marketing stunt aimed to highlight the gender pay gap faced a social media backlash.
The Ellon-based firm claims by repackaging its Punk IPA as Pink IPA - " a beer for girls" - it is sending up "lazy" marketing efforts to target the female market.
BrewDog is selling the beer at a 20% discount to anyone who identifies as a woman, and donating 20% of profits from the sales of both drinks to gender equality campaigns.
Sarah Warman, BrewDog's global head of marketing, said: "The fact that the gender pay gap is still an issue in 2018 shows that a lot of lip service is being paid, but not enough action is being taken to tackle inequality.
"We want to accelerate change by empowering more women to make their voices heard and calling out industries and employees that need to do more. With Pink IPA, we are making a statement the only way we know how - with beer."
She added: "We always anticipated that some people might not immediately appreciate the irony of Pink IPA but that did not deter us in our mission to spark a conversation about the gender pay gap.
"Pink IPA is clearly an over-the-top ridiculing of the types of sexist marketing we often see from brands trying to engage a female audience."
However, the move has been slammed online with people on social media accusing the company, which once sold a beer named Trashy Blonde, of being "tone deaf" and "missing the mark".
Natalie Davie, who works for Camden Brewery in London, tweeted: "Jeez @BrewDog, if you have to explain the sentiment behind "beer for girls" this much, then perhaps it's not the best idea to use it for a feminist marketing campaign?"
Student and editor Laura Hamilton, meanwhile, said: "Brewdog's plan to skewer lazy stereotypes by having a whole campaign run round a stereotype is...lazy. And also perpetuating it.
"Should have gone for Emily Punkhurst, guys. #fail #brewdog"
And Glasgow musician Declan Welsh tweeted: "Brewdog arnae clever here btw, they're genuinely tone deaf.
"Their slogan is "Equity for Punks". This isnae genius marketing, it's Yer Da trying to be woke to appear relevant.
"It's Kendall Jenner handing a pepsi to a polis. It's David Cameron wearing a T Shirt that says feminist."
Despite the criticisms, there were those who praised BrewDog's stance.
Actor Charlie Bond wrote: "Can I just say thank you so much for taking this important stand. The gap is a major issue in my industry and I have had to fight to be paid the same rate for the same job as my male peers."
Download: The STV News app is Scotland's favourite and is available for iPhone from the App store and for Android from Google Play. Download it today and continue to enjoy STV News wherever you are.