Pubs hold fundraiser in bid to find man missing in Hamburg
Liam Colgan, from Inverness, was last seen in the German city on February 10.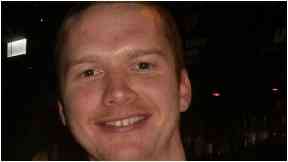 Inverness pubs are staging a weekend-long event to raise funds for the search of missing Liam Colgan.
The 29-year-old was on his brother Eamonn's stag weekend in the German city when he vanished in the early hours of Saturday, February 10.
Almost a month after his disappearance, pubs around his home city are hosting the One For Liam fundraiser between Friday and Sunday to help support volunteers in Germany looking for him.
Organiser Tommy O'Connor said: "Liam and his band played in the pub here, Encore, every Saturday night.
"Since his disappearance we've been thinking of ways to support the search campaign and we came up with the idea of One For Liam.
"When a customer comes into the bar they can say 'one for Liam' as well and that will go to help the search."
Friends and relatives last saw Mr Colgan in the Veermaster Bar and he has been identified on CCTV footage from the Baumwall area after leaving the bar.
The footage goes on to show Mr Colgan trying unsuccessfully to get in to a building, before walking towards the Michelwiese Park.
A witness has also reported offering Mr Colgan assistance before the Scot headed off towards the city's Portuguese Quarter at around 2.30am.
Money from the fundraiser will go towards paying for flights, accommodation and other expenses of volunteers who are in Hamburg searching for Liam.
Venues in Forres, Invergordon and Nairn are also taking part in the event.