Abandoned puppy fights rare disease to find forever home
Miley was born with Swimmer Puppy Syndrome, having lost the use of her hind legs.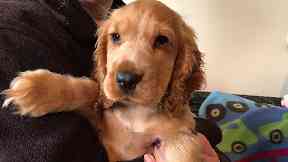 A puppy has been given a new lease of life thanks to an intense course of physiotherapy.
Miley, a golden cocker spaniel, was born with Swimmer Puppy Syndrome and abandoned by her owners in Aberdeen.
The syndrome leaves dogs unable to stand up and walk, usually paddling their legs like a swimmer.
Handed into Mrs Murray's Dog and Cat home, Miley's days seemed like they might be numbered. The pup had no use of her hind legs and was dragging her body along the floor.
Many dogs with this syndrome are put down, as little is known about the rehabilitation process, but staff at Mrs Murray's wouldn't give up hope on little Miley.
Marie Simpson, the manager at the animal home, said: "Miley was handed in by a member of the public. The story we got was that she'd been found out in the street so she came to us as a stray.
"We knew there was something wrong and took her straight to the vet who diagnosed her."
The syndrome is so rare that the vet had never seen a case of swimmer puppy before, never mind helped to treat it. The home was warned that they shouldn't get their hopes up - Miley might have to be put to sleep.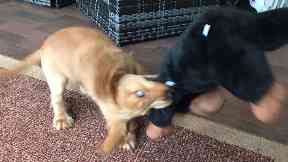 But just four weeks later, Miley has found her feet and her forever home.
An intense programme of rehabilitation, including hydrotherapy, has helped the pup learn to walk.
Ms Simpson added: "Her feet - which she found very quickly - she managed to get up.
"We did a lot of online searching, made a track for her - because her legs splay out, and that keeps them together, so that she could get them into the right position.
"We did some swimming, taking her into the pool. She also has regular physiotherapy and one of the other vets up at the practice used a muscle stimulator on her which she has a weekly session for."
The centre is now just waiting on the vets signing off on Miley so she can go on to her forever home.
Mrs Simpson said it showed that no one should give up on their dogs, should they display these symptoms.
She added: "If you hadn't seen her when she first came in, and had just seen her now, you'd have never known.
"It gives us hope that if you do have a puppy nothing is lost."
Additional reporting by Ben Philip.
Download: The STV News app is Scotland's favourite and is available for iPhone from the App store and for Android from Google Play. Download it today and continue to enjoy STV News wherever you are.