Housing plans near Culloden 'like burning an archive'
Highland Council considering proposals to erect 16 houses half a mile from the battlefield.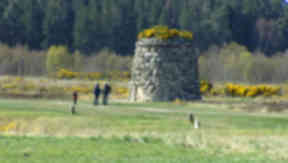 A plan to build homes near the Culloden battlefield is comparable to "burning an archive", according to a military historian.
Highland councillors will reconsider an application next month for 16 homes to be built at Viewhill Farm, about half a mile from the location of the battle between Jacobite and government forces in 1746.
The plans seemed to have been approved by the South Planning Applications Committee in March with five votes to three in favour of the development but some councillors said they had pressed the wrong button when voting, leading to another meeting scheduled for May.
Speaking ahead of the anniversary of the battle, Professor Christopher Duffy said the plans will encourage further development in the area.
Professor Duffy, who taught military history at the Royal Military Academy Sandhurst, will host a talk at the site on Thursday for the National Trust for Scotland.
He said: "It's very rare to find a battlefield that is so similar to when the fighting actually took place. Culloden is remarkable in that the site is still 90% intact from 272 years ago.
"However, these homes are going to result in highly-cluttered views and destroy the atmosphere surrounding the battlefield.
"If we're not careful, we could end up with another instance of what the Americans call 'Central Park' syndrome - a patch of green, surrounded by intrusive development."
The proposed housing site is about half a mile from the location of the battle, fought between Jacobite and government forces in April 1746, and is within the battlefield's conservation area.
Professor Duffy added: "Culloden had a huge, long-term impact on Scottish history; setting in train a series of events that led to the overthrowing of the clan system and the entire social structure on which the country was built.
"It's a special place with a wild landscape and the events that took place here on April 16 1746 were a human epic.
"The ground also still has a lot to teach us about the past: archaeology is advancing year by year and what we can learn from what lies beneath the soil is too.
"Destroying a landscape like Culloden is akin to burning an archive."