Kingsford group use fake figurehead to avoid online abuse
The campaign group object to the new £50m stadium planned for Aberdeen.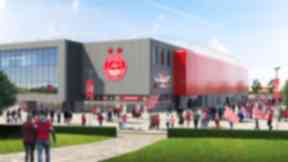 A campaign group objecting to a £50m stadium for Aberdeen have been using a fake spokesman, it has emerged.
The No Kingsford Stadium (NKS) group have protested against plans for Scottish Premiership side Aberdeen to build a new stadium on the outskirts of the city.
The group used the pseudonym of "Angus Jamieson" to provide quotes to the local press, despite having no one by that name in their group.
NKS say that the fake name was necessary because they received online abuse from supporters of the stadium plans.
The name was used to submit 35 freedom of information requests on the proposed Aberdeen Stadium and training facilities project.
NKS is now a limited company with three directors - Heather Brock, Clare Davidson and Diane Reid.
The group was founded by local residents of Westhill, Aberdeenshire, and Kingswells in Aberdeen, who say they oppose the application based on concerns over the loss of green belt land, potential parking problems and an increase in traffic.
But following approval by Aberdeen City Council, the group now wants to challenge the decision in the courts and have raised £50,000 for the legal battle.
The stadium application has proved controversial in the community, with a rival "Westhill for Kingsford" group also founded.
One of the NKS directors explained the reasons for the "pseudonym" in a statement online after it was revealed that "Angus Jamieson" was a fake spokesman.
The statement from Ms Reid said: "The reason for the pseudonym is that people involved in the campaign have been subjected to abuse from some people in favour of the stadium.
"The police have been involved on several occasions and individuals have been cautioned and interviewed for their online threats against members of NKS.
"The police have also, at different times, tagged the homes of NKS members, for heightened responses given the threats."
She stressed that the group had not intended to mislead the public by using a pseudonym.
She added: "NKS has never intended to mislead the public. We sought only to protect individuals from threats and attacks.
"Nevertheless, if anyone has felt misled because of our use of a pseudonym, we offer our sincere apologies."
Download: The STV News app is Scotland's favourite and is available for iPhone from the App store and for Android from Google Play. Download it today and continue to enjoy STV News wherever you are.