Survey may have uncovered war grave of Jacobite officers
The 16 officers were shot by the English after they were found in Culloden house.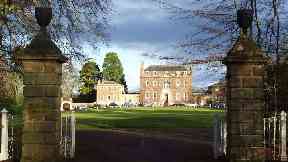 An archaeological society may have uncovered the grave site of 16 Scottish officers killed after the Battle of Culloden.
The Lochaber Archaeological Society (LAS) undertook a geophysical survey around the grounds of Culloden House.
The survey uncovered four pits near the site where officers were said to have been executed.
The original Culloden House was destroyed after the battle but the cellars where the officers were said to have hidden, remain the same.
They were discovered in those cellars, taken outside by the English redcoats and shot and buried near the Brangas Tree, a large elm tree which used to stand in the grounds.
The tree, which was felled in the early 1900's, was marked on ordnance surveys, giving the team a solid reference point to carry out the search.
Robert Cairns, chairman of the LAS, said: "We carried out a full metal survey of sections of the ground and a geophysical survey of the mound where the tree was known to sit.
"The survey uncovered four pits around this mound, and some large metal fragments, which we believe could be from musket-balls used to kill the officers.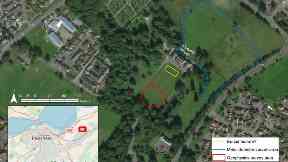 "We can't say 100% that there are bodies in these pits, but they have lain undiscovered for a number of years.
"Speaking with the hotel owner and manager, we are hopeful that we can excavate at least one of the pits in November."
The dig would last around a week, and Mr Cairns is almost certain that it will reveal the graves of these officers.
He added: "If we did uncover anything, we'd cover it back up, because then it becomes an official war grave - but at least we'd know for sure."
If the human remains are uncovered, the hotel would be allowed to apply to the war grave commission to erect a headstone or a plaque to mark the site.
The metal detectors also uncovered a number of items, including mid 18th century halfpennies, lead waste from a 5.5cm sprew casting pistol ball, an iron buckle or clasp, military-style shirt buttons, a possible iron blade, a group of plough ends, various horseshoes and, a 10cm ornamental brass base.
Download: The STV News app is Scotland's favourite and is available for iPhone from the App store and for Android from Google Play. Download it today and continue to enjoy STV News wherever you are.