Baby decapitated in mum's womb during 'botched' delivery
Dr Vaishnavy Laxman carried out the attempted delivery at Ninewells Hospital.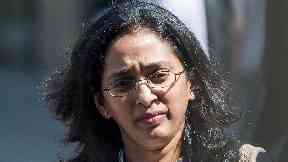 A baby boy died after he was decapitated inside his mother's womb during a botched delivery at a Scottish hospital, a medical tribunal has heard.
Dr Vaishnavy Laxman should have given her 30-year-old patient an emergency Caesarean but instead attempted to deliver her baby naturally, it is claimed.
She allegedly urged the patient to push while applying traction to the baby's legs, causing the infant's head to become detached from his torso.
Two other doctors at Ninewells Hospital in Dundee later carried out a Caesarean to remove the infant's head, which was reattached before he was shown to his mother.
During a Medical Practitioners Tribunal Service in Manchester this week the mother told Dr Laxman: "I don't forgive you - I don't forgive you."
The hearing was told the incident occurred on March 16, 2014, while Laxman was working at Ninewells Hospital in Dundee.
The woman's waters had broken early at 25 weeks and her baby was was found to be in a breech position while her cervix was between two and three centimetres dilated. It can be around 10cm fully dilated.
The woman told the tribunal: "I had been for a scan and I was told my son was breech and the nurse told me if anything had happened to my son it was going to be a C-section.
"But when I was taken to the labour suite nobody told me what was happening.
"I remember them saying I was 2cm to 3cm dilated and I was told to push. Nobody said I was not having a C-section and doing something else instead.
"Afterwards I was in a cubicle with a curtain around me and the sister came over to me and told me my son had passed away.
"I didn't know the details but Dr Laxman came to see me and sat on the side of my bed and she said how sorry she was for what happened.
''I just said 'it's alright, these things happen, I forgive you'.
"She went away but I started screaming when I found out the full extent of his injury.
"I would never use the word stillborn, he was not stillborn - he was decapitated."
Dr Laxman, who faces being struck off the medical register, denies contributing to the death of the baby.
Her lawyer Gerard Boyle QC addressed the mother during the hearing, telling her: "Dr Laxman has asked me to say she is so very sorry and deeply saddened for the outcome of your baby.
''She knows that no amount of words can or will soften your pain but she is hoping that knowing that what she was trying to do was her very best to deliver your baby quickly and sufficiently and she had best intentions at heart.
"She did not intend to harm you or harm your baby and she offers her apologies in every possible way.
"She hopes at some point in time that will make you feel in a way, slightly better.''
The hearing is expected to last until June.
Download: The STV News app is Scotland's favourite and is available for iPhone from the App store and for Android from Google Play. Download it today and continue to enjoy STV News wherever you are.