Woman 'tied to chair at work' seeks up to £42k in damages
The tribunal heard she was seeking damages over anonymous cards she received.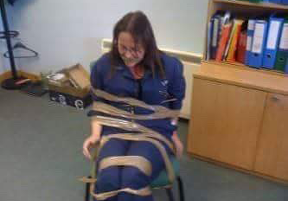 A Scottish Government agency employee who was pictured bound and gagged at work is seeking up to £42,000 in damages over anonymous cards she received.
At an employment tribunal in Aberdeen, DeeAnn Fitzpatrick claimed she has experienced bullying and harassment after she became a "whistleblower" while employed at Marine Scotland.
In a previous hearing, Ms Fitzpatrick alleged she was taped to a chair and gagged by colleagues in 2010.
However, it is understood the tribunal is unable to consider that allegation as it was said to have taken place more than three years before the complaint was brought.
The 49-year-old Canadian national previously said she felt intimidated after being sent anonymous cards, claiming she was targeted with sexual harassment and for being a woman, as well as over her age.
She alleged two colleagues, Derek Yule and Reid Anderson, were responsible for sending them.
The abuse is said to have taken place between 2015 and 2017 while she was based in the government body's Scrabster office in the Highlands and continued after she was signed off.
Andrew Gibson, representing Scottish ministers, said the tribunal panel should "throw out" her case and described some of her claims as "simply ridiculous".
He raised the point that Mr Anderson had been based in the Campbeltown office in Argyll and Bute since 2011 and three cards are postmarked from Inverness - which is 190 miles away.
Mr Gibson said: "It's impossible for anyone to say that any of these cards were sent by employees of the respondent or, quite frankly, anybody else.
"We don't know who sent these cards, neither does the claimant, neither do you (the panel)."
Mr Gibson told the tribunal both men denied the claims and said there appeared to be four different types of handwriting in the cards.
However, it was heard neither of them were required to submit evidence of their own writing to the tribunal.
The cards were received on Valentine's Day and around her birthday every year.
A message in one called her an "old troll" - said to be a workplace nickname for her - and another warned her about trying to "climb the ladder of success".
Other cards described her as "sexy" and made fun of her for turning 50, when she was still in her 40s.
It was heard she reported the cards to human resources on a number of occasions, but she was advised to take them to police herself.
Michael Briggs, her lawyer, hit out at the department for not seeking to question all employees in the office about the cards, as she had not named the two men in her accusations to her employer.
He said: "The respondents inaction constitutes a failure to take all reasonable steps.
"There were any number of steps which could have been taken.
"Whoever was doing this were acting in concert to some degree."
The tribunal heard she was seeking between £25,200 and £42,000 in damages.
Ms Fitzpatrick has worked for Marine Scotland, which oversees work in the country's seas, since 2006.
She is currently on special leave, the tribunal heard.
The tribunal panel is to reach a decision in "five or six weeks", according to employment judge James Hendry.
Download: The STV News app is Scotland's favourite and is available for iPhone from the App store and for Android from Google Play. Download it today and continue to enjoy STV News wherever you are.