Leopard cub born at Scots zoo could be released in Russia
The Amur leopard is critically endangered, with only 100 remaining in the wild.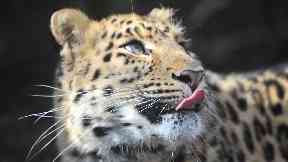 One of the world's rarest cats, newly born at the Highland Wildlife Park, could be released into the wild in Russia.
It would be the first ever reintroduction of a critically endangered Amur leopard to the wild, of which there are only 100 remaining.
The wildlife park is home to the zoo world's only purpose-built Amur leopard habitat, which is not on public view.
The habitat, funded by an anonymous donation, was designed solely to breed the leopards and maximise the possibility of their being released into the wild.
Freddo, the father, arrived from Tallinn Zoo in Estonia, while the mother, Arina, was born at Twycross Zoo in the Midlands.
With minimal human contact, it is not yet known if more than one cub has been born.
Conservationists say the world will be watching over what could be an "extraordinary conservation success".
Douglas Richardson, head of living collections at the park, said: "Our approach to managing this highly threatened cat is globally unique, with the zoo and conservation community watching what we do with a view to following our lead.
"Being able to send captive-bred Amur leopards back to a part of their historic wild range in Russia would represent an extraordinary conservation success.
"Although progress has been made in recent years, habitat loss, poaching and conflict with humans remain threats to the Amur leopard, with only around 100 remaining in the wild.
"We have the only specially designed off-show breeding habitat in the zoo world, which ensures minimal interaction with humans and no contact with our visitors."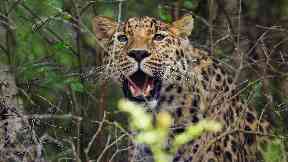 He added: "Working with conservation partners, including Zoological Society of London and conservation authorities in Russia, we hope to introduce cubs born at the park to a region northeast of Vladivostok, in the Russian Far East.
"A phased approach would be needed, with young leopards spending several months acclimatising and sharpening their survival skills in a contained, naturalistic environment within the proposed location of Lazovsky Zapovednik, before being released and monitored.
"Introducing such a large predator to the wild is incredibly complex but, all being well, we hope this may be possible in the next few years.
"This is incredibly exciting and again demonstrates the vital role zoos and conservation breeding programmes have in protecting threatened species."
Experts say the first few weeks are a vulnerable time in a cub's life, and so the zoo have put motion sensitive cameras in place to check that they are healthy, and to discover how many cubs have been born.
The first physical check-up will take place at around three months old, at which point the gender would be confirmed.
Download: The STV News app is Scotland's favourite and is available for iPhone from the App store and for Android from Google Play. Download it today and continue to enjoy STV News wherever you are.