Driving instructor 'groped students during lessons'
Five alleged victims of Neil Addison gave evidence on the first day of his trial.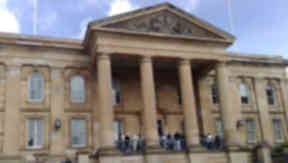 A driving instructor has gone on trial accused of sexually assaulting 15 of his students during their lessons.
Neil Addison, 55, of Cupar, Fife, is alleged to have groped a series of young women during driving lessons over the course of more than three years.
Five of his alleged victims gave evidence at Dundee Sheriff Court on the first day of his trial.
One girl told a jury that Addison had repeatedly brushed his hands over her breast after telling her she had hair on her.
And two of the girls told how over the course of a series of lessons Addison had started out touching them on the knee - before gripping the tops of their thighs after becoming more "comfortable".
One alleged victim said she had refused to get back in a car with him after the first time he touched her.
Others said they only persisted with their lessons with him because they'd already booked their driving tests and paid for blocks of lessons.
The fifth girl to give evidence said that Addison had grabbed her with his fingers on the inside of her thighs, touching her private parts.
Addison's lawyer asked how she would respond if he suggested Addison had only tapped her leg.
She replied: "I would laugh in your face."
One of the women, who cannot be named for legal reasons, told the court she started lessons with Addison in March 2016.
She said he was "friendly enough" in the beginning - but that things turned "the longer they went on".
'The longer I went the higher his hand would go and the longer he would leave it.'

Alleged victim
The 20-year-old said: "If I did something well he would reach over and give you like an encouraging squeeze.
"The longer I went the higher his hand would go and the longer he would leave it.
"The longer it went on the more comfortable he got and he was thinking she's not pushing me away - I'll move up and leave it for longer.
"It got to the point he was at the top of my thigh.
"When I passed my test I was given the papers and he sat with the back of his hand resting on my crotch as he read them."
Another woman, 22, said a month after starting her lessons with Addison he began to put his hand on her leg.
She said: "It was lower down but then it moved up a bit. "On other times he touched my stomach high up, close to my boobs.
"Another time I'd just got into the car and had hair on my top. "He went to brush it off - it was over my breast area.
"He brushed it off a few times over by breasts until I said 'that's enough'.
"It all started slowly and built up. I just thought I could get through my test and it would be fine."
A third woman said Addison had touched and squeezed her upper thigh for around "eight to 12 seconds" as she negotiated a roundabout.
She said: "I didn't want to get back in a car with him - that was my last lesson with him.
"It was scary because of how vulnerable I felt with him being an older man in a car with me, a young girl."
Addison denied a total of 15 charges on indictment, allegedly committed between June 2014 and August 2017 during car journeys across north east Fife.
The trial, before Sheriff Tom Hughes and a jury of eight men and seven women, continues.
Download: The STV News app is Scotland's favourite and is available for iPhone from the App store and for Android from Google Play. Download it today and continue to enjoy STV News wherever you are.