V&A Dundee: Optimism for the future or just a lot of hype?
Can the museum help tackle inequality and other social problems facing the city?
When I was a teenager in Dundee in the 1980s, a song on Bruce Springsteen's 'Born in the USA' album struck a chord with me.
'My Hometown' tells of a place that's down on its luck, with vacant stores, a textile mill that's closing down, of jobs that are going and not coming back.
Thirty years ago, no-one in their wildest dreams would have imagined Dundee would be where it is now; the subject of enormous change and overwhelmingly positive publicity thanks to the arrival of the V&A.
Huge social inequality still exists in Dundee, just as it does elsewhere, although that's something people from Glasgow, Edinburgh and Aberdeen prefer to forget when they're poking fun at my hometown.
There is no getting away from the fact that in Dundee, wages and life expectancy are lower than the Scottish average, a third of children live in deprivation and the death rate from drugs is the highest in the land.
Having lived away from the city for most of my adult life, I went back to speak to people in the poorest part of Dundee - data zone S01007701, ranked 36th on the Scottish Government's Index of Multiple Deprivation.
A 20-minute walk from the V&A , the zone is a collection of old industrial buildings, Victorian tenements and modern housing such as the 16-storey high rise, Dudhope Court.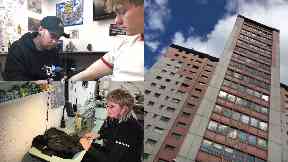 One of its lifelong residents is an unemployed civil servant who can see the new museum on the Tay from his 14th-floor window.
"It certainly makes me feel optimistic about the city's future," says Jamie McKelvie. "I think it's been a great development for Dundee and long overdue."
But will it help people where he lives?
"I don't know about that," he says. "It's not going to get rid of the drugs problem, but for the city as a whole, I think it's a good thing."
Nearby on Polepark Road, former Scots Guard and tattooist Marc Barber couldn't disagree more.
"The money could have been spent in deprived areas like this," he says. "A newborn baby will probably never see the inside of the V&A, if they're from here, or Whitfield or whatever.
"It's a lot of money and a lot of hype."
In another corner of the data zone, a former jute mill has been converted into studios for artists.
Fashion designer Tracey Stewart came to Dundee ten years ago, a move which baffled some of her friends in her hometown of Glasgow.
"Obviously the V&A isn't going to erase poverty, and I don't think that can be expected, but you can go to the building and it's free," she says.
"Hopefully there will be a trickle down and a benefit, which has happened in other cities."
'A newborn baby will probably never see the inside of the V&A, if they're from here, or Whitfield or whatever'

Marc Barber
Dundee City Council says the V&A should not be seen in isolation, but as part of the £1bn waterfront regeneration.
Its five-year plan hopes to create 5000 new jobs in the city.
Council leader John Alexander says: "For too long Dundee was the butt of many people's jokes and I think that's no longer the case.
"I have seen over the last five years, people who were quite doom and gloom about their city, having a renewed sense of pride, and that is the most important thing for me."
No-one is pretending that the brave new world represented by the design museum will change the city's fortunes overnight, but it's putting Dundee on the map for all the right reasons, after decades of mockery.
'My Hometown' ends with the narrator leaving for a better future elsewhere, and over the years that was the route followed by many Dundonians.
Thirty years ago, all of this optimism, energy and renewal would have seemed like the stuff of fantasy.
But it's happening. Onwards and upwards, bonnie Dundee.
Download: The STV News app is Scotland's favourite and is available for iPhone from the App store and for Android from Google Play. Download it today and continue to enjoy STV News wherever you are.