Mums lend their voices to Down Syndrome Awareness Month
Three mums have shared their experiences about having children with Down syndrome.
Reporting by Haley Bouma.
Claire, Leigh and Michelle live miles apart - but they meet up regularly to talk about their children.
The Aberdeenshire mums were put in contact with each other because they have a child with Down syndrome.
As part of Down Syndrome Awareness Month, all three are keen to add their voices to the #Wouldn'tChangeAThing campaign, which aims to change perceptions.
The trio have a matching tattoo "the lucky few" which represents the three sets of chromosomes people with Down syndrome have.
They say some people are initially apprehensive about the condition because of the associated health problems such as ear conditions or hearing problems.
Michelle Harvie, mum to 18-month-old Rosie, said: "I had to reach out really quickly, maybe it's because I'm a single mum and it's just me and Rosie, but for me, speaking with other mums was a way to speak freely without the fear of being judged.
"When other mothers compare milestones it's great, but for our children, because their muscle tone isn't as good, the little achievements are huge."
Leigh Henderson, whose youngest child Rory is two, was initially worried when she was told her baby had the condition.
She said: "It is an initial shock, he had health complications as well which was scary.
"I think I did grieve when Rory was first born, but then as he went through his heart surgery I started to fight for him.
"I wouldn't change him for the world - he's a monkey, but he's my wee monkey."
Michelle added: "It's important not to fall into victim-mode when you know your child has it, people have a sympathetic view about it.
"But I want them just to see my daughter instead of saying 'Aw, what a shame'.
"We're very fortunate that she doesn't have any underlying health complications at all."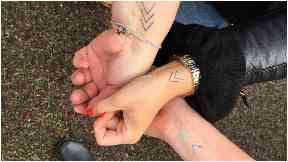 In March this year, charity Wouldn't Change A Thing made a video showing 50 children with the condition and their mums singing in the car.
It's racked up millions of views and now they have created a new video to mark Down Syndrome Awareness Month.
"We want this video to help wider society what it's really like and what we understand to be true."

Jamie McCallum, Wouldn't Change a Thing
Wouldn't Change a Thing chairman Jamie McCallum said: "There's a perception problem in society, between the reality of having a child with Down syndrome and what people believe it will be like.
"So, as parent's and as someone personally speaking who was one of the ignorant people who didn't really know what to expect we want to share that experience.
"We want this video to help wider society what it's really like and what we understand to be true."
These mums have a clear message as part of the campaign.
Michelle said: "We want our kids treated normally and we want them included.
"That's the biggest part of this campaign."
More information on Wouldn't Change a Thing can be found here.
Download: The STV News app is Scotland's favourite and is available for iPhone from the App store and for Android from Google Play. Download it today and continue to enjoy STV News wherever you are.