Women who stormed men's pub immortalised on screen 
No Ladies Please tells the story of women who refused to leave without being served.
Reporting Sharon Donaldson.
The true story of a group of women who stormed an Aberdeen men's pub in the 1970s is being brought to the big screen.
'No Ladies Please' tells how a female trade union delegation demanded to be served in one of the city's most iconic bars, The Grill.
The protest had been sparked by Jacquie Blair, a 21-year-old activist who spotted the 'men only' sign and went in for a drink after a STUC (Scottish Trades Union Congress) meeting.
Recalling the incident, Jacquie told STV News: "What was in my mind was 'I am not moving here, I am staying here until I get my drink'.
"The owner phoned the police, but I was not moving until I got my drink. And I did."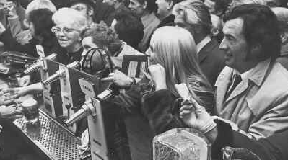 Also at that meeting was a young George Robertson, who spent his formative political years as an STUC union delegate. He later became the NATO secretary-general.
"It wasn't fair because the bar was full of senior members of the trade union," he said.
"So some of us decided if there's any lady here who would like a drink at five o'clock, we'll buy them a drink behind the notice that says 'no ladies'."
Now the tale of the bar protest has been made for the big screen, filmed in Aberdeen and using local actors.
Director Yvonne Heald said: "When I heard the story I thought it would make a great film.
"I knew women didn't get served in bars - my mother had told me that happened in the 60s and 70s - so I thought 'well, good for these women'.
"I think the story makes for a good film.''
Standing in for The Grill during filming was the Fittie Bar, transformed to look as authentically 70s as possible.
Fiona-Jane Brown, who wrote the script, said: "To think that 45 years ago, women were in that position: there were places they couldn't go to, things they couldn't do, despite having had the vote since 1929.
"The world had only moved on a tiny amount - that's why it's such an important story."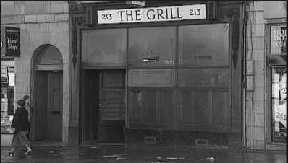 After 1975, The Grill - which remains in the heart of Aberdeen today - and others bars had no choice but to serve women thanks to the passing of the Sex Discrimination Act.
"It's a wider issue, it just happens to be that The Grill was chosen because it was directly opposite the music hall, said Yvonne.
"It was a geographical quirk of fate, but what the film shows is about gender equality and women's rights in society."
A grant from Aberdeen City Council helped the film to get started, while a crowdfunding campaign has been launched to pay for its final edit before a scheduled premiere in November
Jacquie is now looking forward to her first trip back to the bar which got her picture on the front pages all those years ago.
"My oldest daughter went on holiday three years ago with some of her friends and went into The Grill bar," she said.
"She knew all about this, but she phoned me and she said 'you'll never guess, your picture is on the wall in this pub in Aberdeen', and I was amazed.
''I thought it was great. I don't live in Aberdeen, I didn't realise the impact it had on the local community and I thought it was wonderful.
"I've spoken to Fiona the historian who's producing the film and I've spoken to the girl who plays me in the film as well on social media and she's a lovely girl. I'm really looking forward to seeing it.''
Download: The STV News app is Scotland's favourite and is available for iPhone from the App store and for Android from Google Play. Download it today and continue to enjoy STV News wherever you are.