Protest outside restaurant over unpaid £28,000 wage bill
Brassica owner Rami Sarraf is not under any legal obligation to pay his former staff.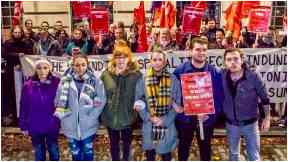 Reporting by Haley Bouma.
Former employees at a Dundee restaurant are calling on the owners to pay them their unpaid wages.
Brassica went into administration and closed earlier this year with staff claiming they're due over £28,000.
Its staff and other Dundee hospitality workers protested on Wednesday night after it emerged the owner, Rami Sarraf, is to open a new restaurant at the same premises on Shore Terrace.
Former Brassica worker Paul Burk said: "I know people who've been threatened with eviction because they haven't been paid for six weeks of their work.
"It's a big amount of money and is affecting people badly.
"I was lucky to be able to walk into a job, but others have not been as fortunate."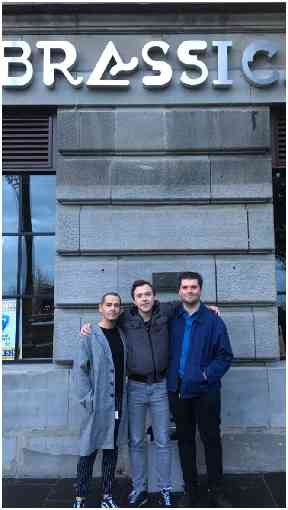 Legally, the new owner is not under any obligation to pay his former staff.
Workers are owed six weeks of wages and their tips; the latter has reportedly been spent on stock for the former restaurant.
Unite's hospitality representative, Bryan Simpson, said: "These workers are entitled to their wages and we are arguing that the public purse shouldn't be paying it through the insolvency service, it should be the owner.
"Our protest was in beautiful solidarity, we had other workers from bars and restaurants across Dundee who showed their support to the former Brassica workers.
"We also had workers from Michelin join us; they told us they understood what we were going through and wanted to show their support."
'There will be the offer of employment to all those employees that were formally employed at Brassica and I sincerely hope that they will come back.'

Owner Rami Sarraf
Following the demonstration, owner Mr Sarraf told STV News that he entered into a partnership with Dea McGill to set up Tayone Food Limited with the purpose of running a high quality restaurant in Dundee.
Despite investing nearly £200,000 into the business, accountants advised Mr Sarraf that the company could not continue to trade.
Mr Sarraf claims he was left with two options - liquidate the company or place it into administration.

Mr Sarraf chose to place the company into administration with the objective of saving the business and saving the jobs of the employees.
He stated: "The administrator of the company has already sent out forms to the further employees of Tayone Food Limited and they will receive any lost pay from a scheme that is in operation to compensate workers.
"In the meantime, I have set up a new company and I made a successful bid to purchase the business and I am currently in negotiations to try and get the restaurant opened as soon as possible and to offer jobs to all the ex-employees of Tayone Food Limited.
"The new restaurant will have a new management team made up of the former employees of Brassica and there will be no place in that business for Mrs Dea McGill.
"There will be the offer of employment to all those employees that were formally employed at Brassica and I sincerely hope that they will come back. However, I can fully appreciate that some of them will have moved on to other jobs and I wish them well for the future.
"We hope that with a fresh start, a rejuvenated menu and a revitalised staff that we can bring to the city of Dundee the quality of restaurant that I had always intended to bring."
Download: The STV News app is Scotland's favourite and is available for iPhone from the App store and for Android from Google Play. Download it today and continue to enjoy STV News wherever you are.