Parents of boy killed in industrial accident start charity
Michael McLean was 17 years old when he suffered fatal injuries at a cleaning firm in Inverurie.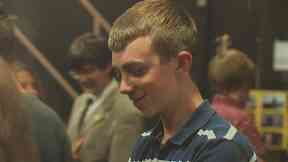 Additional reporting by Sharon Donaldson
The parents of a schoolboy who died in an industrial accident say setting up a charity in his memory has brought them some comfort.
Michael McLean was killed on his last day while on work experience at an industrial cleaning firm in Inverurie, Aberdeenshire in 2015.
The 17-year-old, also known as Mikey, suffered fatal injuries inside the rotating drum of an industrial spooler.
Earlier this year, 23-year-old Dean Reynolds was acquitted of culpable homicide and the company, Denholm McNamee was fined £120,000.
For parents, the pain of losing their only child will never go away.
"We'll never get closure, we've always said that," his mother Angela explained.
"When we got the verdict it floored the both of us.
"All we can do now is live on for his name.
"Whatever happened that day and the people responsible, they've got it on their conscience for the rest of their lives."
The teenager was a pupil at Kirkhill Primary School in Aberdeen when he was diagnosed with dyslexia.
"We used to find him struggling to read the menus, you'd go for a meal and he couldn't read the menu," explained his father Mark.
"It was really frustrating, but then once he started to get the help he just came on leaps and bounds, his confidence got really high as well."
His parents have now set up a dyslexia charity in his name to help keep his memory alive.
So far they've raised more than £5000 to help support two local schools, including his former primary school.
Shona Milne, headteacher at Kirkhill Primary School says the funds will help other children living with dyslexia
She said: "What we wanted to do was to use the money to remove the barriers that children had that were similar to Mikey's, but also to give them an opportunity to learn to enjoy the things that he really enjoyed.
"He was a very creative boy."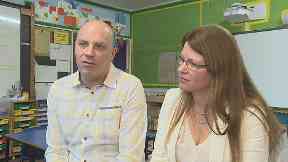 The school plan to create a Lego club for children to enjoy during break times, as Mikey loved playing with the toys as a child.
They also plan to buy extra games and books which will help pupils with their dyslexia.
"He was a big part of the school community even after he left," Shona added.
"He came back as part of a 5th year project where they built a shed for our nursery children and it's still here today."
Michael's parents say their main focus is keeping their son's memory alive by helping others.
"Any time we were on holiday, people would come up and say 'what a good kid you have', he was always helping people," Mark said.
"He was an amazing child, Mikey was very good with children, all different ages really," his mother added.
"He would be very proud, if he was here today he would be so chuffed."
Download: The STV News app is Scotland's favourite and is available for iPhone from the App store and for Android from Google Play. Download it today and continue to enjoy STV News wherever you are.