Wildcat trapped as farmer investigates chicken deaths
The kitten was captured in a live trap in Aberdeenshire and will be released in spring.
A third Scottish wildcat kitten has been rescued by a conservation group in Aberdeenshire.
Wildcat Haven came to the aid of the cat after it was caught in a live trap by a farmer investigating the loss of several chickens.
There was no sign of a mother near the location and the young kitten appeared to have been alone for a while, scavenging scraps wherever it could find any - with a chicken coop proving just too tempting for a cat with little ability to hunt wild food.
A vet check confirmed that it was underweight, but otherwise healthy.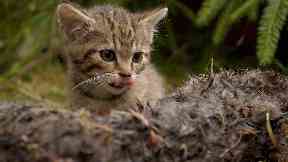 Steve Sleigh of Wildcat Haven, which carried out the rescue, said: "It was incredibly exciting when I got the call to investigate the new kitten.
"I had no idea what to expect, but as soon as I saw her, I knew she was a wildcat kitten with a thick blunt tail, perfect dorsal stripe marking and ferocious personality.
"She was snarling and spitting as soon as I went near, but looked very small for her age, she clearly needed to get to a vet straight away."
The kitten is now recuperating and eating very well at a purpose-built rescue centre in the West Highlands.
This little female follows a pair handed over to Wildcat Haven earlier in the year.
The remote location and large enclosures ensures limited exposure to humans so as rescued cats can return to the wild and embrace an independent lifestyle.
The kitten will spend winter at the centre before being released back into the wild in spring, where the warmer weather should bring plenty of natural prey for her.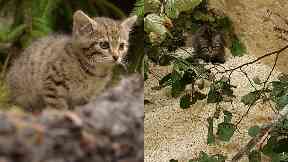 Dr Paul O'Donoghue, chief scientific adviser for Wildcat Haven, stated: "These three kittens represent almost 10% of the current worst-case population estimate, emphasising their importance as a lifeline for the species in the wild.
"We're very lucky to have this incredible rescue centre from Highland Titles to give them all a real chance at a long life in the wild.
"We're reluctant captors and there's no question that these kittens will all return to the wild; we hope the male may bond with the new kitten so that they could be released into adjoining territories, enhancing the chances of them breeding healthy new kittens out in the wild, where these cats belong."
Scottish Wildcat Action, a national conservation partnership which includes more than 20 professional organisations across Scotland, has called for a genetic test to ensure the kitten is in fact a Scottish wildcat.
A spokesperson said: "We note that a wildcat interest group is claiming to have discovered a Scottish wildcat kitten.
"It is not possible to confidently identify a wildcat kitten from that of a domestic tabby cat by physical appearance alone.
"As this cat is being held there's no reason not to carry out a genetic test. Without this it cannot be assumed that this kitten is a Scottish wildcat.
"In addition it would be illegal and irresponsible to release a hybrid cat without a licence."
Facts about Scottish wildcats
The Scottish wildcat, or Highlands tiger, is a dark-coloured subspecies of the European wildcat native to Scotland. It became extinct in England and Wales, as well as in southern Scotland within the last 150 years.
Scottish wildcats can be distinguished from domestic cats by their heavier, more robust skulls. They also have a larger body size, longer limb-bones and their tails are thick.
Scottish wildcats can live at least 15 years in captivity, but may only live two to three years in the wild due to car strikes and disease from feral cats.
Scottish wildcats are mainly nocturnal, though they may hunt at all hours during the winter when food is scarce.
The Scottish wildcat was given protected status under the United Kingdom's Wildlife and Countryside Act 1981. 
Download: The STV News app is Scotland's favourite and is available for iPhone from the App store and for Android from Google Play. Download it today and continue to enjoy STV News wherever you are.