'Feisty Women' taking government to court over pensions
Campaigners fighting for billions of pounds of compensation for women born in the 50s.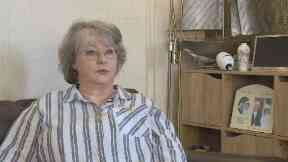 The UK Government could face a court battle with Dundee campaigners fighting for billions of pounds of pension compensation for women born in the 1950s.
Pension reforms have left 3.8 million women across the UK waiting an extra six years to receive their state pension in a move ministers said was necessary to achieve equality for men.
But the Feisty Women group claim they're victims of discrimination and are consulting lawyers about court action.
"We want to launch a legal challenge," said the charity's chair Ann Porter.
"We've been talking to human rights lawyers in London, we've been on quite a journey in terms of researching this and building our case so we're confident in our evidence and we have proof that discrimination did happen, we believe, knowingly, against us.
"We contend that the real reason for the 2011 increase in state pension age for women was not high-minded equality principles, but a quick-win austerity measure where women were seen as disposable resources."
Many women born in the 1950s were pioneers in the workplace, combining raising a family and domestic duties with careers and further education.
'We've been talking to human rights lawyers in London, we've been on quite a journey in terms of researching this'

Ann Porter
This generation is now being affected by changes to state pensions, in particular the 2011 Pensions Reform Act, which accelerated the introduction of the pension entitlement age for women from 60 to 66.
Sandra Sapeluk, from Dundee, is backing the Feisty Women campaign. She's 64 and expected to receive her state pension at 60.
As a full-time carer, looking after her disabled daughter for more than 40 years, she says her earning abilities have been limited.
"I as a carer could do nothing to improve my pension pot," she said.
"I'm not on a big private pension, most women of my age wouldn't be having private pensions and so the situation was that we were relying on the government to do the right thing for us and they haven't done it."
Other campaign groups are challenging the government, and the BackTo60 group recently won the right to a High Court judicial review, which will examine whether the increase to women's state pension age was lawful.
The Feisty Women group say their campaign is different.
"When we looked into it we found that a judicial review won't get any money back for the women who have lost out on their pensions," said Anne Rendall, co-founder of the group.
"We're losing out something like £45,000 over the time of the pension that we should have got so we feel that we don't want a 'sorry' from the government - we want money, compensation, and that could run to billions."
The Department of Work and Pensions say they've listened to concerns about state pension equalisation since reforms began in 1995.
"The government decided more than 20 years ago that it was going to make the state pension age the same for men and women as a long-overdue move towards gender equality, and this has been clearly communicated," said a spokesperson.
"People are living longer so we need to raise the age at which all of us can draw a state pension so it is sustainable now and for future generations."
Download: The STV News app is Scotland's favourite and is available for iPhone from the App store and for Android from Google Play. Download it today and continue to enjoy STV News wherever you are.