School reopens six months after cash woes forced closure
The renamed Butterstone House School in Perthshire educates children with additional needs.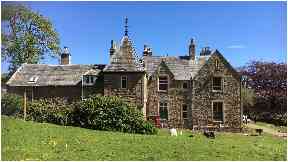 By Haley Bouma and Peter Cassidy
A school for children with additional needs is set to reopen six months after it was forced to close.
The New School at Butterstone, near Dunkeld in Perthshire, shut its doors in November citing financial troubles.
The renamed Butterstone House School will officially open to pupils with special needs on Monday.
Specialist education and care provider Moore House will operate the school and initially take on 12 day students over the coming weeks.
It plans to eventually create day and residential places for up to 30 pupils, working alongside Perth and Kinross Council and other local authorities in Scotland.
Jean Rennie's granddaughter Jodie attends the school that she calls her 'happy place'.
She said: "We are over the moon, we came up here for a meeting on Tuesday and I just felt so happy.
"It was like a feeling knowing Jodie would be going back to where I know she is happy, so it is a great feeling.
"Jodie has been fortunate enough to be educated in a centre they had set up for kids from the school and luckily she was able to manage that on a part-time basis, but everyday.
"She has done well and managed to pass a few exams but some of the other kids were unable to manage it, which is a shame, so really we have been lucky enough that Jodie was and I think Butterstone set her up to be able to do that.
"She is very happy to be returning on Monday, she calls it her 'happy place'.

"We need to know why this happened, because it was a heart break and everyone was effected. From all the teaching staff and people who lost their jobs it should never have happened."
And Susan Briggs, whose teenage son Jack goes to the school, said: "It has felt like our lives have been on hold for the last six months, just waiting for something that should be a child's basic right, which is their right to an education.
"He has been lonely and isolated and withdrawn, and I have seen a really big change since he knew that the school was definitely reopening . He has been so much more animated and he has even came up today for some burgers from the barbecue.
"We are still hoping there will be an independent investigation to find out why a school closed, particularly a school like this, with just four days notice and for our children to be left with no appropriate education for six months. It is just terrible.
"My son should have sat his national fives in maths in May, however because of what happened he was no longer ready and couldn't do that. So that will have to be delayed until next year now."
Patricia Sheridan, founder and managing director of Moore House, said: "Moore House and Butterstone House are entering into a partnership which we hope will not only give back the service that was lost but will continue to develop care and education services for children throughout Scotland."
Anne Gibson, Moore House CEO, said: "We are looking forward to building on young people's progress and to providing a full range of curriculum opportunities that will enable them to achieve success in their lives.
"Through effective partnership with our colleagues in Perth and Kinross Council, we will ensure that students experience a positive transition back to school and achieve the best possible outcomes."
Download: The STV News app is Scotland's favourite and is available for iPhone from the App store and for Android from Google Play. Download it today and continue to enjoy STV News wherever you are.