Greenpeace protesters climb onto North Sea oil platforms
Activists oppose plans to leave parts of the rigs in the North Sea once they are decommissioned.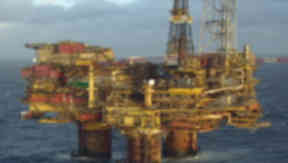 Activists from Greenpeace have climbed onto two North Sea rigs to protest against decommissioning plans.
Two protesters from the Netherlands, Germany and Denmark boarded Shell's Brent Alpha and Bravo platforms, which are no longer operational.
The environmental group oppose plans to leave parts of the rigs in the North Sea once they are decommissioned.
Joris Thijssen, director of Greenpeace Netherlands, said: "Shell's plans are outrageous and go against international agreements to protect the sea.
"The 11,000 tons of oil that is still stored in the foundation of the platforms will sooner or later end up in the sea. That is unacceptable.
"The North Sea is not a garbage dump, Shell has to clean up its mess."
A Shell spokesperson said: "We can confirm that two protesters have boarded the Brent Alpha platform and one has climbed onto the Brent Bravo concrete legs. Their safety and that of our workers are our prime concern at this moment.
As part of a tightly controlled regulatory process managed by governments, Shell along with our partner ExxonMobil, has spent ten years conducting in-depth research into decommissioning the Brent platforms.
"Our recommendations are the result of more than 300 scientific and technical studies.
"These were reviewed by an independent group of eminent scientists to ensure the research was sound and that all feasible decommissioning options were thoroughly investigated.
"We have also engaged with hundreds of individuals and key stakeholder groups to explain the plans. Our proposals were submitted only when we were convinced they were the best option: safe, environmentally sound, technically achievable, and socially responsible."
A police spokeswoman said: "Police Scotland is aware of the situation in the Brent oil field and is liaising with partners to ensure the matter is resolved safely."
Download: The STV News app is Scotland's favourite and is available for iPhone from the App store and for Android from Google Play. Download it today and continue to enjoy STV News wherever you are.