Festive Season lights up Lossie
Heavy snow added a touch of magic to the Christmas Lights switch-on in Lossiemouth at the weekend.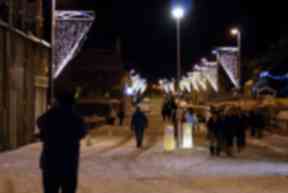 Seasonal festivities were kicked off in fine fashion in Lossiemouth at the weekend, the unexpected arrival of heavy snow providing a perfect backdrop for the switching on of the Christmas lights in the town.
Hundreds braved the elements but had to wait a little longer for the switch-on countdown to begin, Emmerdale actress Lesley Dunlop having to make a special effort to force her way through the snow storms and reach the town. Dunlop – who also has appearances in 'Where the Heart is', 'May to December' and 'Doctor Who' to her credit – arrived around 10 minutes late, but delighted fans of the ITV Soap by remaining to chat and sign autographs long after the switch-on.
Ms Dunlop was joined on stage by former Emmerdale actor Chris Chittell, who returned to Lossiemouth for a second year having performed the switch-on ceremony in 2009. Chairman of the Lossiemouth Millennium Association Maureen Garden had a special word of thanks for everyone who had worked so hard to prepare the lights around the town and the event itself, saying: "This is always a big night for Lossiemouth and gets us all in the mood for Christmas."
The severe weather did however have a say in proceedings, causing problems with the launch of the firework display – that however was quickly overcome.