RAF Kinloss says farewell to Nimrod MR2
VIDEO: Moray base marks retirement of RAF's maritime reconnaissance aircraft.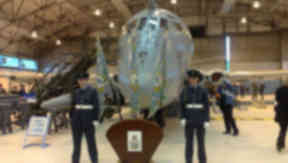 The RAF is saying farewell to the Nimrod MR2 aircraft at the Kinloss base in Moray with a commemoration service.
The aircraft is being retired from service, with a replacement - the Nimrod MRA4 - due to come into service in 2012.
The UK's fleet of Nimrod MR2s are based at RAF Kinloss and it has had a long history with the RAF since its development in the 1960s.
The Nimrod is based on the de Havilland Comet, the world's first ever passenger jet aircraft. It has been used by the RAF in its maritime patrol role since the 1970s.
It is designed to detect and destroy submarines as well as perform search and rescue operations as well as supporting intelligence and communications operations.
IN DETAIL
The aircraft saw service in the Falklands War and has been in service in the middle east since 2001, where it has been involved in surveillance operations in Iraq and Afghanistan and communications support for troops.
It is capable of long-range search and rescue operations, and can take on a co-ordinating role in operations involving other aircraft.
In 2006 14 servicemen died in Afghanistan when their Nimrod exploded shortly after refuelling. An investigation ruled the explosion caused by a fuel leak was preventable.
Until the replacement for the Nimrod is introduced, search and resue operations will be undertaken by a number of different aircraft.