Campaigners hand over petition opposing deer cull to Council
Around 2,400 people sign petition opposing deer cull at Tullos Hill.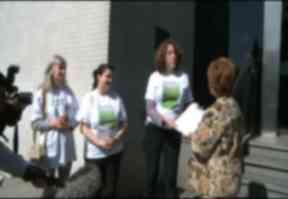 Campaigners opposed to a controversial deer cull in Aberdeen have handed a petition signed by around 2,400 people to Aberdeen City Council.
The petition was accepted by Councillor Aileen Malone, the convener of the Housing and Environment Committee, which will decide whether to go ahead with the cull when it meets tomorrow.
The Council are planting 100,000 trees at Tullos and other areas around Aberdeen as part of its 'tree for every citizen' project.
The Tullos site is home to a large number of roe deer, which are to be culled to stop them eating the young trees.
A petition organised by Animal Concern and supported by Aberdeen Animal Rights and Save The Tullos Hill Deer groups was signed by over 1,700 people opposing the cull.
A further 700 people signed paper petitions set up by other campaign groups, including retailers Lush.
The Council had told the campaigners that the cull could be prevented if they were able to raise £225,000 by tomorrow to pay for enclosures around the trees.
However campaign spokesperson Suzanne Kelly described the Council's offer as "tantamount to blackmail".
She said: "You don't have to kill these deer to plant the trees. The consultation was flawed from the start as we weren't even told there was going to be a cull.
"The Scottish Society for the Prevention of Cruelty to Animals said it is absurd and abhorrent to kill healthy animals when there is absolutely no need to."
Councillor Malone said she has received numerous emails from concerned local residents opposing the deer cull.
She added: "I have no idea what the outcome will be tomorrow. It is not down to me - there are 14 members of the committee and it will be up to them to make the decision.
"I would say that whatever the outcome one thing that Aberdeen City Council will have to look at for the future is a deer management policy.
"We don't have one at the moment as it has never been an issue until now. We have more deer coming into the city because of the abundance of food supply so it is therefore necessary that we have a policy on how we should deal with this."
Do you think the cull should go ahead? Let us know your thoughts below or join the debate on our Facebook page.