Fit like, Jesus? Solicitor completes project to translate Bible into Doric
A Scots lawyer has finished the first part of an epic literary project to translate the New Testament.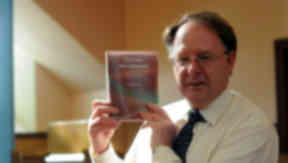 A Scots lawyer has completed a painstaking project to translate the Bible into his native tongue of Doric.
It may have taken God six days to create the universe, but it has taken Gordon Hay six years to realise his ambition of translating the New Testament into the north-east dialect.
The project, which has been a labour of love for the 59 year-old partner at Peterhead law firm Stewart and Watson, has been in gestation since 2006, but Hay will finally see his Mither Tongue version of the scriptures published at the end of October.
Although the Christian book has been printed in more than 2000 languages worldwide, it has never been issued before in the traditional north-east dialect.
Mr Hay said he was relieved to have completed his New Testament translation and revealed that he was committed to starting work on the Old Testament in future months.
"English is a foreign language to me, so I think this is a good way of keeping Doric alive and, while it has been a lot of work, it feels satisfying to have finished this first chapter," said Hay, who is an elder at Longside Church.
"This all began after I was asked by the Buchan Heritage Society to translate some readings into Doric for a [church] service. They went down so well and I enjoyed doing it so much that I thought I would do some more and it just mushroomed from there.
"Some parts were very challenging. The most difficult section was Peter's Letters - it was tricky finding Doric translations for words like "peace" and "joy". And I was dreading coming to Revelations, but it wasn't as tough as I thought it would be."
Hay, who will be the guest speaker at St Drostan's Episcopal Church, in Old Deer, on Thursday evening, cannot be faulted for his enterprise during the project and is even self-publishing his Biblical work, with the help of Turriff-based company, W Peters & Son.
In which light, it is hardly surprising he regards this as something of a magnum opus.
"Some people argue that Scots didn't develop as a language, because the original King James Bible was written in English," said Hay. "But, hopefully, when this new version comes out later this year, it will help to raise interest in Doric once more."
EXTRACT FROM THE MITHER TONGUE
The Acks o the Apostles, Chaptir 14, verse 8
**Noo, at Lystra, there was a cripple mannie vrang amo e feet fae e day he wis born, nivver haein waalkit. He wis hearknin tae Paul as he spak, an Paul, leukin him straicht in e ee an seein he hid e faith tae be made aa better, says till him wi a lood vice: "Stan straicht up on yer feet!" He jumpit up an set oot waalkin. An fan e crood saa fit Paul hid deen, they roart oot o them in their ain tongue, "E gods hiv come dooon till hiz in e form o a mannie."