Aberdeen Olympic parade: open-top bus cheered through streets of Saltires
Thousands of onlookers turned out to catch a glimpse of Olympic Gold medal winners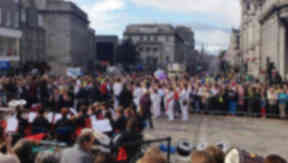 The streets of Aberdeen city centre were brought to a standstill on Sunday as the Olympic parade wound its way from Castlegate to Haddo House.
Thousands of onlookers turned out to catch a glimpse of Olympic Gold medal winners canoeist Tim Baillie, rower Katherine Grainger and Paralympic cyclist Neil Fachie, swimmer Hannah Miley, shooter Jennifer McIntosh and Paralympic cyclist Lora Turnham.
An open-top bus was cheered through streets of Saltires and it stopped off at the three Royal Mail post boxes painted gold in honour of Tim, Katherine and Neil.
Wellwishers spoke of a wonderful atmosphere and even the weather behaved itself with beautiful blus skies above the Granite City.
The celebrations climaxed with a balcony appearance from all the atheltes after they arrived at Haddo House.