Potential £2.5m bill to reopen Union Terrace Gardens toilets
Aberdeen City Council planning papers show cost of reopening UTG restrooms.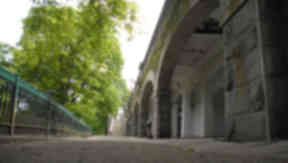 Aberdeen's low-budget alternative to Sir Ian Wood's £140m City Garden Project has suffered a major setback after council officials revealed it could cost £2.5m just to reopen the toilets.
Sir Ian's dream Granite Web at Union Terrace Gardens was dumped by the new coalition council last month, amid claims that the £140m bill for the scheme was too big a risk.
Instead, Aberdeen City Council councillors voted in favour of small improvements to the city centre, including minor improvements to the gardens.
However planning documents have revealed that just reopening the restrooms would cost millions of pounds.
It is thought the toilets - which closed in the mid-90s due to structural issues - would also cost about £50,000 a year to run.
According to Aberdeen City Council's director of housing and environment, Pete Leonard, it would cost about £650,000 to survey and make the structure safe.
He said it would take a year to fully reopen the facility, costing between £1.5m and £2.5m in total.
A council spokeswoman said: "Significant work would be required to bring the toilets back into use, including work to address water ingress and to waterproof the roofs.
"This would require road closures and the footpath above the toilets to be lifted to expose the entire roof structure. Some demolition work would be required.
"Work to address corrosion steel structures and rot to wooden battens, caused by the water ingress, would also be needed."
SNP group leader Callum McCaig was furious at the revelations.
He said: "These latest figures show how the administration's plans for a facelift to Union Terrace Gardens have not been thought through properly.
"They have said reopening the Victorian toilets is all that is needed to reinvigorate the gardens but, with a bill of £1m to £2.5m, it is clear this is not going to happen as you cannot justify that amount of money on public toilets, even in times of plenty.
"When you add in the costs of fixing the road and balustrade on Union Terrace you could be looking at a bill of nearly £5m, with next to no visible improvement to the area.
"The council said 'no' to a realistic programme of works that would have had a transformative effect on the city centre.
"It is becoming clearer by the day that, under this administration, we will see no tangible improvements to the city centre."
But Labour's finance chief, councillor Willie Young, insisted the toilets were essential for enhancing the sunken Victorian Gardens, but claimed he had been given a different figure for the estimated cost.
He said: "That is not what he told us. It's way off the mark. Whatever we do with public money, it will be in the best interests of Aberdeen."