£84,000 to boost dementia research at University of Aberdeen
£80,000 to buy sophisticated scanning equipment to aid research at the university.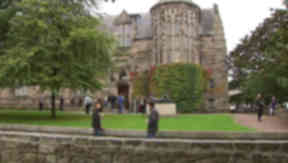 Scientists carrying out world leading research into dementia in Aberdeen have been given a major funding boost.
Two projects at the University of Aberdeen will share £84,000 to continue their work into the condition.
Most of the money from Alzheimer's Research UK will be spent on new imaging facilities to examine what happens to the brain during dementia.
Professor Bettina Platt, of the University of Aberdeen, has been awarded £80,000 to buy sophisticated scanning equipment to aid this research.
She said: "Our facilities for MRI brain scanning at the imaging centre were in urgent need of an upgrade and this funding will now allow us to gain more precise and reliable data. The scanner is used in a range of dementia research projects, and the funding will therefore benefit scientists from across the university.
"Early detection of dementia is a huge challenge yet essential for effective treatments, and we hope that our research will lead to real benefits for patients and their carers in the future."
Another grant will support a long-term project involving a group of local residents all born in 1936.
Researchers have been following the group, now in their mid-70s, for a number of years looking for links between their early-life experiences and cognitive performance later in life.
The new funding will support a consultant psychiatrist to continue to monitor the volunteers, giving a further insight into the risk factors for dementia.
Pat Ross, an Alzheimer's Research UK champion from Aberdeen, knows only too well the devastating effects of Alzheimer's, as her husband Ronald died with the disease in June.
She said: "After Ronald was diagnosed with Alzheimer's, our world was turned upside down. I visited Ronald every day, and the most devastating thing was that by the time he died, he didn't know me anymore, and couldn't recognise our new grandson.
"I wouldn't wish this disease on anyone, which is why I started fundraising to help support research into dementia. I recently visited one of the dementia labs at the University of Aberdeen and it really opened my eyes to the amazing work being done to defeat these diseases."