Stormy Scotland: The day Footdee in Aberdeen was engulfed in foam
Residents were stunned when they awoke to discover the foam surrounding their properties.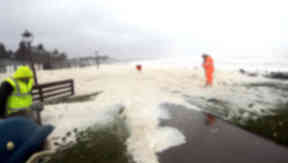 An old Aberdeen fishing village has been left covered in foam after severe winds and rain battered the city.
Local residents were left stunned as homes and vehicles in Footdee, known locally as Fittie, were covered in the mixture of water and sand.
Joyce Cairns, an artist, said: "I have stayed in the village for 33 years and I have seen wild storms but never anything as bad as this.
"We did not have a good night's sleep at all. The wind was howling all around the house. It was just wild and I even had to tape up the cat flap.
"I woke up at 7am and I couldn't believe it when I looked out the window to see how bad it was. At first I thought it was just the sea coming over but the foam gradually came close and closer to the house every 15 minutes."
Another local resident Lindsay Gordon, who has lived in Fittie for 12 years, added: "That is the strongest wind I have ever experienced here.
"It was quite scary. It looked like a winter scene with all the sea foam everywhere."