Highland Chocolatier offers tasty treats for sweet-toothed Aberdonians
Award-winning chocolatier Iain Burnett brings his mouthwatering chocolates to a new stall in Aberdeen's Bon Accord.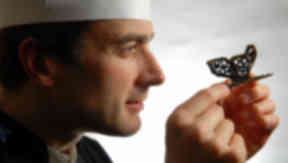 With a row of champagne flutes lining the bar, delicately garnished with a plump strawberry, you could be forgiven for expecting a top up of fizz.
Yet, at the opening of Highland Chocolatier Iain Burnett's newest venture, an island stall in a prime spot in Aberdeen's Bon Accord centre, the tipple of choice was dark, rich and certainly satisfying.
A flute of Aztec style hot chocolate is all it takes to be transported into Burnett's unique style of thinking as he expands his business to include his first retail store in the heart of Aberdeen's shopping hub.
With a mouthwatering display of gold-lustre dusted chocolate spheres and a cabinet filled with fresh enrobed and un-enrobed chocolates, Florentines, chocolate bon bons and beautiful jewel-like candied fruits, the shop simply serves to highlight Burnett's talents.
The master chocolatier, who creates his handcrafted chocolates in his Grandtully specially–designed chocolate kitchens, feels that Aberdeen is the perfect place to open his first retail store, as the shoppers in the city have discerning tastes.
He said: "This new venture in the Bon Accord is the business dipping our toes in the water with its first retail store. We feel Aberdonians are looking for something a little bit above average when choosing chocolates."
The stall's opening coincides with Burnett's nomination for an International Chocolate Award for his infamous velvet truffles, which have already won five awards, and will be judged at the world final in London in October.
His award-winning truffles are made with Scottish cream from Crieff in Perthshire and the finest cocoa from Sao Tome to give intense and delicious flavours simply finished with a fine dusting of cocoa powder, which melt in the mouth when tasted.
The cocoa used by Burnett in his chocolate crafting is filled with delicious notes that develop through the soil that the plant is grown in, with subtle hints of red fruits and spices, savoury tones of sweet pea right through to smoky, oak flavours.
Iain explains that exploring real chocolate is very much like a fine wine tasting, and by using his single origin, fairly-traded Sao Tome cocoa he feels the consumer can develop a taste for real chocolate that isn't blended with cheap ingredients like artificial additives or vegetable oil.
He notes that chocolate tasting "is about a voyage of discovery and getting to experience different flavours of chocolate".
So what tips does Iain suggest for how to get the best out of your chocolate?
"Try it before breakfast," he says. "Don't try blended chocolate, it will just turn your stomach, but first thing in the morning you will be able to taste the different notes that you can only detect with a fresh palate."
Iain Burnett, The Highland Chocolatier island store opens Saturday, September 29, and is situated on the ground floor of the Bon Accord Centre, Aberdeen.