Man freed by firefighters after getting his head stuck in a rubbish bin
All three emergency services were called out after the man got his head stuck in Aberdeen.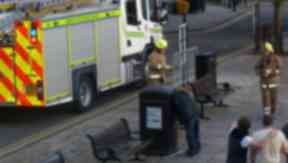 A man had to be freed by firefighters after getting his head stuck in a bin in the centre of Aberdeen.
Fire crews were called to the Castlegate at around 5.45pm on Sunday.
Grampian Fire and Rescue officers took around 15 minutes to cut the 52-year-old man free.
The man, who is believed to be a local homeless person, was taken by ambulance to Aberdeen Royal Infirmary where he was treated for facial injuries before being released.
A Grampian Police spokesman said they were unsure what the man was looking for.
The unusual incident was captured on camera by residents and the picture quickly spread on social networking sites.
Homeless charities are condemning people who have poked fun at the man and Aberdeen Cyrenians are urging people to understand the desperation of people living on the streets.
Scott Baxter, of The Cyrenians, said: "Whoever the gentleman is I'm sure, for whatever reasons, he wouldn't want to see himself being plastered about all over the media.
"I understand it has gone worldwide but hopefully maybe people will take a moment to think being in those shoes would they want to be laughed at."
Stuck:The man was freed by firefighters