Murder inquiry in Aberdeen after body discovered in church lane
The body was found in the Grampian Lane area of Torry on Thursday night.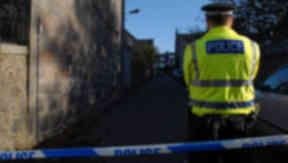 A man has been found dead in a lane beside a church prompting a murder investigation.
The man's body was found in Grampian Lane, beside St Fittick's Parish Church, in the Torry area on Thursday night.
Grampian Police are now appealing to the public for help in the investigation and said the force said it was following "a positive line of inquiry".
Detective inspector Richie Guild, who is leading the investigation, said: "We would appeal for anyone who heard or saw anything in the Glenbervie Road, Grampian Road towards Grampian Lane area to contact police as soon as possible."
More than 40 officers have been involved in the investigation.
Torry and Ferryhill councillor Alan Connelly said he was growing increasingly concerned by "a pattern of violent crimes" in the area.
"We need the police to carry out a full investigation and lets get the person responsible apprehended and we need help from the community.
"Torry has a large and very close population. It's not a place you can go unnoticed. It's a community where people observe and I'm sure someone will have seen something.
"There does seem to be a high level, and a pattern of, serious crime happening in Torry. It's a pattern that needs to be controlled.
Anyone with information is asked to contact Grampian Police on 0845 600 5 700 or Crimestoppers on 0800 555 111 if you wish to remain anonymous.

View Murder inquiry in Aberdeen after body discovered in church lane in a larger map