Donald Trump in Lockerbie jibe at Alex Salmond amid wind farm row
Trump says the First Minister's 'greatest contribution' was releasing the Lockerbie bomber.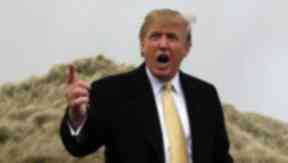 Donald Trump has launched an attack on Alex Salmond over his role in the release of the Lockerbie bomber as the row over a wind farm near his new golf course continues.
The US tycoon has called on the head of the MoD to resign and renamed the RSPB the "Royal Society for the Killing of Birds" in a statement released on Friday.
Referring to the release of Abdelbaset al-Megrahi who was freed from Scottish jail in 2009 on compassionate grounds, Mr Trump said Mr Salmond's "greatest contribution has been to let a Libyan terrorist go home to his friends after bombing Pan Am flight 103".
Mr Trump was dealt a blow on Thursday when Aberdeenshire councillors stood by their decision to support the £230m plans for an offshore wind farm near his £100m golf complex.
He said: "Military radar will be totally affected by these massive, ugly and inefficient turbines. There is no tried and tested technology available that mitigates their impact on radar – wind turbines compromise national security.
"They are doing it strictly because Alex Salmond wants them to, and Alex Salmond has a death wish for Scotland. The military leader that approved these terrible turbines should, at a minimum, be ashamed of himself and, in fact, consider resignation."
Trump added: "I am amazed at how Scottish Government representatives and agencies are allowing this catastrophe to take place in their community and country. Incredibly, the RSPB opposed our development when we turned a 'bird killing field' into a golf course (where no birds will be killed) and yet approved an environmentally destroying wind farm that will kill thousands of birds a month.
"Believe it or not, this group of self serving and ill-informed individuals fought us harder than any other group. Their name should be changed to RSKB – 'Royal Society for the Killing of Birds' to reflect their pro-wind turbine position."
Mr Trump said that he would continue to halt the development of his golf resort at Menie Estate, contrary to reports.
He added: "Definitively, we will not build our hotel until this application is rejected. The golf course I have built is already considered, perhaps, the best in the world. The hotel I am planning would likewise be far superior to any hotel in Scotland, England, Ireland and, hopefully, anywhere in Europe.
"However, if the 80-storey Aberdeen destroying wind turbines are going to be built in Aberdeen Bay, I will not invest one additional pound in this magnificent development."
The RSPB responded to Donald Trump's tirade claiming they were satisfied that the proposed wind farm would not cause significant damage to sea birds in the area.
A spokesman for RSPB said: "Trump International is a very successful business organisation dedicated to maximising its financial returns. The RSPB is a nature conservation organisation dedicated to saving our threatened wildlife and working towards creating a world richer in nature.
"We assess each planning application on its own merits. Regarding RSPB Scotland's position on the Aberdeen Bay windfarm, we have been engaged in this project for at least nine years.
"During this time we set out our concerns fully and asked the developer to examine them in detail. This resulted in a considerable reduction in the number of turbines and a change in the layout.
"This, coupled with our own research and that conducted by the developer, assures us that the threat to sea birds in the important waters of Aberdeen Bay is now small."