Fraserburgh girl models unusual fashion at Lighthouse Museum
RavenEmber hopes fashion shoot at Fraserburgh's Lighthouse Museum will boost the local community.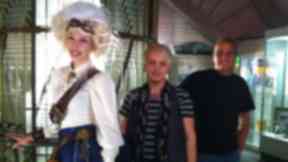 Click here to see our fashion photoshoot gallery.
A Fraserburgh model was part of an unusual exhibit which showcased abstract fashion designs at the town's Museum of Scottish Lighthouses today.
Local model Jodie Noble, also known as RavenEmber, teamed up with Jane Faye of Gaia Noir to model the fashion designer's latest creation which draws inspiration from 'Steampunk' – a trend which explores how science fiction would look in the Victorian ages.
To set off the Gaia Noir creation, hairdresser Peter Mellon of Toni and Guy in Aberdeen produced an explosive hair design and the entire photoshoot was managed by Fraserburgh photographer, Grahame Ritchie.
Jodie told STV Local that the Lighthouse Museum's setting was "perfect" to showcase the extravagant designs, and that she hoped staging the fashion shoot in the museum would boost the local community.
She said: "I contacted the designer herself, I'd seen the pieces on her website and suggested a collaboration and it's fantastic to be a part of it.
"The Scottish Lighthouse Museum has great backgrounds, and unusual modern designs which go great as a backdrop scene for this shoot. Steampunk is an unusual trend and it's really taking off – it's basically an interpretation of what we believe science fiction and fantasy would look like had it been around in the Victorian era."
The model, who also works at the town's Co-op store in between modelling part-time, added that the museum staff had been a "brilliant help" in putting the whole event together, and that she is proud to say she is from Fraserburgh.
She said: "Fraserburgh's my home and it's great to be able to be given the opportunity to showcase something like this in the town. I can't thank everyone at the museum enough – they have been a great help and it is much appreciated.
"I'd also like to thank Peter who is a fantastic stylist, as well as Grahame who is local to the area and does a top job."
All RavenEmber's futuristic accessories were homemade by Grahame Ritchie and the model herself.
Virginia Mayes-Wright, the musum's director, said that she was "delighted" to be able to support local talent.
She said: "The museum is an inspiring venue for a variety of different events and this is no different. We know that the photoshoot will bring a real buzz to the museum as well which is a bonus."