Aberdeen's puckish spirits pursue Lynx effect in Scottish ice hockey
Aberdeen Lynx are brimming with potential as they seek ice hockey success.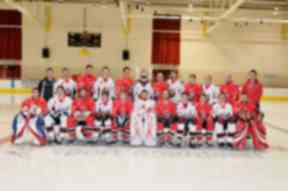 Jordan Leyden is a youngster with a flair for football and ice hockey, who thinks nothing of flexing his muscles in both pursuits on the same day.
This weekend, for instance, the 21-year-old will turn out for Cove Rangers against Inverurie Locos in the Highland League, as the prelude to travelling into the Granite City and performing for Aberdeen Lynx against Paisley Pirates in the evening.
Gruelling? Yes. A test of stamina? Undoubtedly. But Leyden has been involved in hockey since he was three and is excited by the challenge of joining his fellow puckish spirits as they chase success in the Scottish National League.
In that competition, the Lynx ensemble come up against the likes of the aforementioned Pirates, Dundee Comets (and Tigers), Kilmarnock Storm, Edinburgh Capitals, Kirkcaldy Kestrels, the North Ayrshire Wild (and also Belfast Giants and Solway Sharks).
"I can hardly remember a time when I wasn't playing the two sports and they have become an important part of my life," said Leyden, who has been one of Cove's and the Lynx's most prolific goal-scorers during the last 12 months.
"It can be quite tough if I have been involved for 90 minutes with Cove to be back in action on the ice a few hours later, because hockey is a full-on activity.
"But the crowds are great, the atmosphere is always buzzing at the venue and within the squad, and there is a real sense that we are moving forward."
Much of the credit for the club's renaissance lies with chairman Alan Forsyth and vice-chairman John Colley, both of whom have laid the foundations for their elite personnel to flourish and for future generations of youngsters in the north-east to rise up the ranks.
"We had a difficult couple of years, while the rink [the Lynx Ice Arena, on Aberdeen's beach front] was closed, but things have definitely changed for the better in recent times," said Colley, whose club regularly attracts crowds of 700 and 800 every week and who donates 20% of the gate receipts to the charity Cash for Kids.
"We also have a lot of people working behind the scenes with our under-12s, under-14s, under-16s and under-18s, and we have also established two recreational sides.
"The aim now is to increase our profile, keep spreading the word to youngsters in Aberdeen and raising our standards. But, from my perspective, there is no reason why Aberdeen can't have a [professional] Elite League team in the future, because hockey is popular in this city."
Leyden shares that optimism, but is equally aware that he might eventually have to choose between his two cherished pastimes.
"Alan and John have turned things round and the fans are coming along to cheer us on in bigger numbers than we could have expected at this stage, so our ambition has to be chasing a place in the Elite League," said Leyden, a highly-regarded prospect in his twin spheres.
"I won't be able to play football and hockey indefinitely, especially if I get involved in either on a full-time basis. But I'm enjoying my life and taking things as they come."
He might have committed himself to a stringent itinerary. But the Lynx effect is clearly working wonders for Leyden and his colleagues.