Teenager battling 'human mannequin' disease makes foray into fashion
Louise Wedderburn, from Fraserburgh, spent time with Elle Magazine as part of a documentary.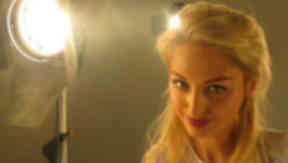 A brave teenager battling a rare, incurable muscle disease has spoken of her inspiring battle to fulfil her dream of breaking into the fashion industry.
Louise Wedderburn journeyed from Fraserburgh to London for a Channel 4 documentary, to be shown later this week, seeking a career in fashion.
The 18-year-old has a rare genetic condition called Fibrod Ossificans Progressiva (FOP), known as Stone Man Syndrome, which is turning her into a human statue as her joints gradually lock together and muscles turn to bone.
The severity of condition means Louise's life expectancy is just 41 and it could only be a matter of years before she is permanently frozen in an upright position - leaving her with no choice but to get around on a specially built standing wheelchair.
But Louise is determined her condition will not stop her achieving her goals in life. She said: "It's never going to stop me from doing what I want to do. I don't want to be one of those people that let their illnesses get them down.
"If I start to think about things I would never leave the house. I am frightened about being in a wheelchair. It really freaks me out.
"It's a calcium build-up, your muscles turn into bone. Your skeleton never stops growing, so you almost end up having a second one.
"My arms won't go straight, so it's difficult to reach up or down. Because of how my arms are placed, I use my left arm for low things and my right for higher-up things like touching my face."
In the documentary, 'The Human Mannequin', which airs on Thursday, the cameras follow Louise as she secures work experience behind the scenes at London Fashion Week and a placement at the world-renowned fashion magazine, Elle.
Designer Nadine Mirabi agreed to let Louise assist in the hair and make-up trials prior to her first London Fashion Week show the following day.
Louise added: "Everyone thinks fashion is such a cut-throat world. But if you have great style sense, then you're perfect."
But it was not all plain sailing for Louise, who had to be accompanied at all times as her mobility and agility are extremely limited and she had to be careful not to collide with anyone in crowded places.
Louise impressed in the more office-based Elle Magazine and she received top marks from staff after spotting stylishly dressed Londoners on the streets and getting pictures of them for the website.
She also had a fashion article published on the magazine's website. Louise's mum, Ciona, who runs a cupcake business in Fraserburgh, said she was immensely proud of her daughter.
Ciona added: "She can never get comfortable. Her illness drains her body of energy, but she is just a brave person - she never cries or complains."