Grampian Police defends impartiality in handling of Trump protests
You've Been Trumped producer Anthony Baxter condemned the force for trying to 'justify their actions'.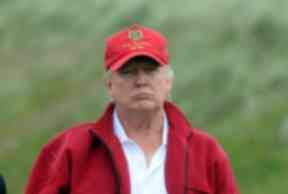 Grampian Police has rejected accusations that it was not impartial in its handling of protests against Donald Trump's development at the Menie Estate.
In a letter sent out to members of the public who had complained about the arrest of You've Been Trumped director Anthony Baxter, Ewan M Stewart, Chief Superintendent at the force's Professional Standards Department, insisted the force had acted objectively towards both sides of the dispute.
Mr Baxter and his colleague Richard Phinney were detained in July 2010 after Mr Trump accused them of entering his organisation's offices on the Menie Estate in Aberdeenshire without permission.
He said: "With regard to the general allegation which suggests that Grampian Police are not impartial in the manner in which they have policed issues relating to the development at Menie Estate, I can assure you that Grampian Police have responded to all calls, protests or incidents at the estate in an impartial and transparent manner.
"At the very outset, the potential controversy regarding the policing of incidents at Menie Estate and other similar developments was recognised and a generic local strategy was developed which determined Grampian Police's priorities as being to maximise safety, minimise disruption, facilitate lawful protest, and deter, detect, detain and report those responsible for unlawful behaviour."
However, the force reiterated its December 2011 apology for the way officers behaved when they arrested Mr Baxter and Mr Phinney.
The chief superintendent conceded that the officers "could have interacted more effectively" with Mr Baxter. "There were opportunities for the officers to have communicated more effectively in order to explain their objectives," he admitted.
Mr Baxter said he was "appalled" that Grampian Police were still trying to "justify their actions".
He said: "The police saying that their officers acted rationally and in a confrontational way is certainly true, but really what we are dealing with here is something that should never have happened.
"We were doing an interview on the private property of local resident, Susan Monroe. We were essentially arrested and charged with a criminal offence for doing an interview. That is something I think that the British public, who have seen the footage, view with horror.
"I don't see why we should hand over our unedited footage to a force that put us in jail and confiscated that same footage for six days and held on to it at their headquarters without giving it back to us.
"We would be happy to give it to an independent body but that does not exist in Scotland. What you see in this film is what came into our camera."
The film You've Been Trumped was released in 2011 and takes a critical look at US tycoon Donald Trump's golf development in Aberdeenshire.