Marischal College opens its doors to customers for first time
Customer service centre opens this morning at iconic city centre building.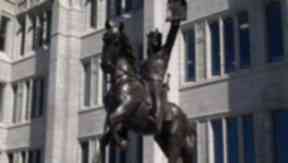 Aberdeen City Council's new headquarters in Marischal College will open its door to customers for the first time today.
A customer service centre will open on the ground floor at 10am giving residents the chance to visit the building for the first time since the start of a three-year restoration project.
The Council has leased two-thirds of the world's second largest granite building from the University of Aberdeen for 175 years for £4.7million to create the new offices.
The transformation of the historic building, which has involved 565,000 man-hours of work, has been completed on schedule and under budget. The original budget was set in 2006 at £80.4million but now looks likely to involve capital expenditure of around £65million.
City Council leader Councillor John Stewart, who chairs the Marischal College Project Board, said: "I am proud and delighted to say that the project has been a huge success. I and my fellow councillors kept an extremely tight grip on the finances from day one and we are now able to say that it has been completed bang on time and well under the original budget.
"A huge team of people worked hard as a productive partnership on the scheme - councillors, our own staff, architects, demolition crews, the construction company, civil and structural engineers, building services engineers, quantity surveyors and project managers.
"What we have collectively achieved is the completion of one of the most exciting construction projects in the whole of the UK and a civic building in which the people of Aberdeen can take enormous pride."
Aberdeen City Council chief executive Valerie Watts added: "The City Council has brought to fruition a remarkable project which has created a stunning new public building for all the people of Aberdeen. It will be admired far and wide by citizens and visitors alike and will become the iconic image for this proud city."
The new customer service centre will provide the wide range of services currently offered at The Point next to St Nicholas House and will handle queries on council tax and benefits, housing applications and advice, debt advice, social care, homelessness services, registrar services and licensing.
The centre's normal opening hours will be 8.30am-5pm.
The remainder of the City Council's 1323-strong staff are expected to complete the move into Marischal College by the start of September.
Watch a 90 second time-lapse YouTube video showing work being carried out on Marischal College from start to finish by clicking here.