Candy Belle's Fair puts Aberdeen sweetly on the vintage map
The vintage craft, clothing and homewares fair brought a touch of class to the Aberdeen shopping scene.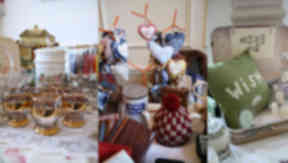 Although Aberdeen is known for its stylish inhabitants, with an art school and plenty of funky stores in its midst, the idea of rummaging through a dusty vintage shop for that illustrious gem is something of a mystery to north-east shoppers.
For years, Glasgow's had its grubby little hands firmly on the crown of vintage capital of Scotland, but now four feisty fashionistas are trying to prise its grip from the second-hand title.
Exploding in the early noughties, vintage became the outfit du jour for style set to be seen in and the trend for pre-loved classic clothing has gradually swept up the coast and landed in the hearts of four local business owners, who came together to create a seasonal vintage fair.
The eponymous Candy, a slight, 50s housewife that adorns the posters advertising the fair, is the quartet's inspiration behind the event.
Co-founder Janet Shek explains: "When we were discussing names we wanted some sort of local connection that people would associate with Aberdeen. One of our group Angie had been speaking to her mum and dad about local Aberdeen legends and apparently there was this lady called Candy Belle, who had a sweet shop.
"We really quite liked the name as it's very vintage and it's also got a local connection. So we adopted that and created this character of Candy Belle as a 50s housewife."
Adding a touch of opulence to the shopping experience, Candy Belle's Vintage Fair appears seasonally at the Thistle Hotel on Union Terrace. Those who managed to miss the impressive social media campaign were delighted to discover this hidden shopping gem amongst the noodle bars and French patisserie at the International Market on Saturday November 3.
Set in the ground floor of the hotel, the fair opened up into two large rooms groaning with a veritable vintage pic 'n' mix at a range of prices. Racks of stunning party dresses perhaps housed the more eye-watering price tags, but buckets of handbags for £4 a pop and a healthy amount of cheap-as-chips homeware gave the fair a good variety of prices for all budgets.
Shoppers were also treated to an activities room where The Retro Spectrum offered fans of 70s and 80s computer games the chance to wind down with some classic pixelated fun. Make-up artist Rachel Ashcroft was also on hand to transform shoppers with vintage makeovers with lashings of red lipstick and dramatic flicks of eyeliner, and a treasure trove of beads for crafty children and adults alike to make bracelets and necklaces from gave visitors the chance to unwind and have some fun.
Once all the vintage had been soaked up, the promise of a delicious afternoon tea with a cheeky glass of prosecco in the adjacent tearoom was a tempting way to round off a busy day of shopping, make-up and crafting.
Although the fair was a hustle and bustle of activity, filled with shoppers keen to part with a little cash, Candy Belle's had a less opulent start when it was first conceived last year.
Janet explains: "It started around this time last year with a really small version. I buddied up with some of my friends who are crafters who wanted to do a vintage craft fair and I did it in the galleria with just a few stalls just to test the water and the turn out was amazing. I think I had over 500 people turn up that day."
The success of the first fair took everyone by surprise and soon the fair expanded into its current guise in the hotel, attracting over 1000 vintage lovers and bringing in small businesses from all over Scotland. Janet feels that Aberdeen needs an event like this to keep people intrigued about vintage and the variety of stall holders is an added bonus.
She said: "We've managed attract stall holders out with the Aberdeen areas, as we've got Gladrags which has came from Forfar, Vintage Swallow has come from Elgin and Betty and Bella from Edinburgh, so its good that we are attracting people out with the city. These sellers are coming to us now because they know that there is the wealth and variety in Aberdeen.
"Slowly but surely the vintage scene is getting to us and you can just see by how many people have turned out today, people of Aberdeen are really getting into vintage now so I think the scene is getting bigger and bigger."
Alison, from vintage stall Feet and Tea agrees, saying: "I think Aberdeen has a lack of vintage so we are trying to make it as readily available as we possibly can. It's about coming for one day and giving people that vintage experience. Hopefully the fair will lead to something a bit more permanent in Aberdeen in the future."
Janet feels that Candy Belles offers something different to the shopping scene in Aberdeen, providing vintage hunters a full day filled with vintage fun.
She said: "The whole idea is that we want it to be a full day event, so people can come in the morning, have a vintage-style afternoon tea, have another browse and maybe take part in some activities."
Looking to the future, Janet believes that Candy Belle can go from strength to strength, and the potential for a full weekend of vintage fun is a project that could see Aberdeen grab that illustrious vintage crown from the Glaswegians.
She said: "Going forward, we are maybe looking at teaming up with some of the historical sites in Aberdeen, maybe one of the castles, and do a full weekend worth of events."
To find out more about Candy Belle and the next planned fair, please visit the Candy Belle Facebook page.