Horse charity on target with £4k clay pigeon shoot fundraiser
Almost £4000 has been raised at a clay pigeon event at Belwade Farm Rescue and Rehoming Centre.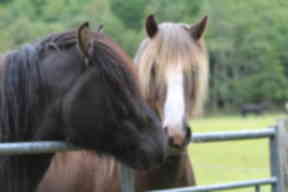 A clay pigeon shoot raised nearly £4000 for a charity that rehomes abused and neglected horses.
World Horse Welfare recently hosted its fifth successful annual charity clay pigeon shoot at Belwade Farm Rescue and Rehoming Centre, near Aboyne, Aberdeenshire in September.
Participants and visitors were invited to the brand new visitor centre and indoor arena, which was opened in late September of this year by HRH Princess Anne, who is also the president of the charity.
The clay shoot featured classes in four different disciplines: Down The Line, Sporting, Two Man Flush and Pull Trap.
The Smart family have been running the Belwade Clay pigeon shoot for the last five years and have raised over £10,000 to date in aid of World Horse Welfare.
Audrey Smart, a key organiser of the event, said: "The event is getting bigger and better each year, and is very well supported by the shooting community in the north-east of Scotland.
"This year for the first time we have bought a quaich which has been engraved with the World Horse Welfare logo and the names of the winners. Once the quaich has been mounted on a plinth, it will be on display at the new Belwade Visitor Centre so do come along and see it; we aim to have it on site by mid-November."
Eileen Gillen, Belwade's Centre Manager, said: "Many thanks to our generous sponsors, hard-working volunteers and everyone who took part on the day. You all helped to make our clay shoot a fantastic fun-filled day out yet again.
"This year we successfully raised £3760, our highest amount yet, with all proceeds going to help World Horse Welfare continue working to help horses in need."
The quaich will be on display in the new visitor centre, which is open from 11am to 4pm every Wednesday through to Sunday.