Aberdeen named as fastest-growing Scottish city in new survey
A new independent survey has hailed Aberdeen's economic growth.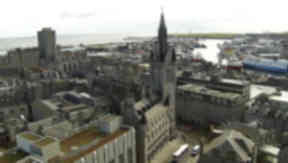 Aberdeen has been acclaimed as Scotland's fastest-growing city - and one of the best in the United Kingdom - in a new independent survey.
The results of the Demos-PwC Good Growth for Cities Index placed the north-east community ahead of the likes of London, Edinburgh, Manchester and Glasgow, and Aberdeen was ranked behind only Oxford and Reading in the list of 36 cities.
In common with others at the top of the standings, Aberdeen performed well in areas such as jobs, income, health and transport (the average commuting time to work).
It also scored highly in indices relating to the environment and providing for the future (the percentage of households with long-term savings).
Aberdeen Council leader, Barney Crockett, welcomed the report's findings.
He said: "Aberdeen is seen as a very attractive place. As well as a healthy jobs market, and healthy business growth and start-up rates, we have a lovely beach in the middle of the city.
"We have beautiful buildings, a great cultural offering, and an outstanding environment with award-winning parks and the countryside on our doorstep."
However, Cllr Crockett admitted the survey didn't present Aberdeen as a modern Utopia.
He added: "It doesn't mean we can afford to rest on our laurels. Aberdeen must continue to drive forward, and to look for and seize new opportunities, to help secure our future.
"Work on schemes such as the Aberdeen Hydrogen Project is a good example of how we are working to secure the city's future at the forefront of the energy industry.
"The creation of the AWPR is another significant boost for the city and north-east."