Wind farm applications up by 998% in Aberdeenshire since 2007
Opponents have criticised the four applications a week received by Aberdeenshire Council.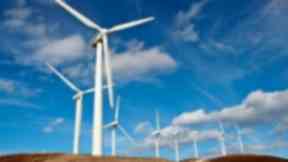 Wind farm applications in Aberdeenshire have risen by 998% since 2007 with four proposals a week received by the council's planning department.
Figures obtained by the Scottish Conservatives, through Freedom of Information, reveal that there have been 5528 applications for turbines across Scotland during the last five years.
That number represents a 600% increase from the previous seven years, since the SNP came to power at Holyrood.
Aberdeenshire has received the most applications, with a total of 1078 wind farm bids tabled with the local authority from 2007-12.
That is an average of more than four applications per week being submitted to Aberdeenshire Council planners - a 998% jump from the period from 1999 to 2006.
John Lamont, the Scottish Conservative chief whip, has attacked what he described as the Scottish Government's "ludicrous target "of producing 100% energy from renewables.
He added: "Turbines are intermittent and unreliable, and the SNP's obsession risks ruining our countryside and making our energy production industry the laughing stock of the world.
"[First Minister] Alex Salmond is sending out an unashamed message to windfarm companies across the world that Scotland's hills, ridges and fields are fair game.
Peter Argyle, the Liberal Democrat councillor for Aboyne, Upper Deeside and Donside, who is chair of Aberdeenshire Council's Infrastructure Services Committee, said he wasn't surprised by the figures, and repeated his call for a moratorium on new applications.
He said: "This is having an increasingly serious impact on communities across Aberdeenshire.
"Many are feeling overwhelmed, both by the sheer number of proposals, and by their seemingly haphazard, unpredictable pattern."
The Scottish Government has set a target of generating 100% of electricity from renewables by 2020. Ministers have approved 29 of 35 major developments since 2007.