Drug trafficker who paid woman to marry him to stay in country jailed
Kizito Ugo Nwajeri, 31, was linked to a £243,000 cocaine seizure in Scotland.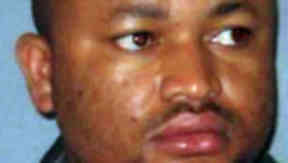 A drug trafficker who paid cash to a woman to marry him in a bid to stay in the country has been jailed for nine and a half years.
Kizito Ugo Nwajeri, 31, from Nigeria, was linked to the largest seizure of crack cocaine in Scotland at street level with a potential value of £243,000.
On Wednesday at Edinburgh High Court a judge told Nwajeri he had played a "significant role in the large scale distribution of crack cocaine".
Lord Kinclaven pointed out that almost 2kg of the highly addictive drug had been recovered which the Nigerian had arranged to have brought from Salford, in the Manchester area, to Aberdeen by courier.
The judge jailed Nwajeri for nine years for the drugs offence and a further six months for breaching immigration legislation.
Lord Kinclaven pointed out that by "means of deception" he had sought leave to remain in the UK.
Nwajeri paid Kirsty Birnie £2000 to marry him before flying to Lagos, in Nigeria, for a ceremony. He later submitted an application to remain in Britain as the spouse of a settled person.
Nwajeri paid for flights, accommodation and the marriage ceremony and later opened a joint bank account.
Ms Birnie, 30, a hospital domestic, said she was handed a Bible stuffed with cash during a meeting at a cafe in Aberdeen.
She later flew to the West African country for the marriage but spent her wedding night alone while a friend shared a room with her groom. She later tried to get a divorce denying they were ever in a relationship.
Nwajeri, of Mount Pleasant Road, Bolton, in Lancashire, had denied breaching the Immigration Act between July 2010 and February last year and being concerned in the supply of the Class A drug between September 2010 and May last year, but was unanimously convicted of both offences.
Defence counsel Louis Moll said Nwajeri was a first offender who was "an intelligent young man" who had graduated in mathematics and was due to begin PhD studies in January.
The defence counsel said: "His role is best described as that of a trusted lieutenant. He is not a mere foot soldier. He is not a courier. He clearly played an organising role. He is certainly not the top of the ladder."
Mr Moll said: "We are talking about large, but not enormous quantities of drugs."
The Home Secretary will consider the deportation of Nwajeri.