Jack's men aim to pose a few testing Scottish Cup questions at Ibrox
Ross Jack has had to work exceptionally hard to keep his squad focussed on Rangers.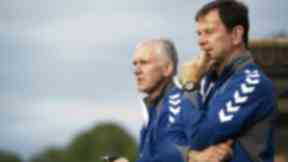 Elgin City manager Ross Jack has had his work cut out this week to keep minds focussed on football as the Rangers ticket controversy rages all around.
For City's players it will not have been easy to remain focussed on Sunday's Scottish Cup tie at Ibrox, but the manager insisted that the tempo in training has not let up in the slightest with every man in his squad determined to show why they should be in the starting line-up.
"Everyone is determined to show me that they should be picked to play against Rangers," Jack said, adding: "There has been a buzz around the squad and the tempo in training has remained exceptionally high.
"It was of course disappointing for the players that they could not play last weekend but they quickly accepted that, it was something that was out of our control and we simply had to switch our minds to the next game."
With his side producing some of the best football seen at Borough Briggs since Elgin entered the Scottish Football League, Jack firmly believes he has enough quality and determination in the side to hurt Rangers.
At the same time he looks at the quality of the opposition and realises that the expansive style of play Elgin City have produced may be difficult to recreate in the red-hot atmosphere in Glasgow.
The manager said: "We have to be very respectful to Rangers but we have played extremely well in the last few weeks, passing the ball at pace and with width.
"We have been creating a lot of chances and getting the ball into the box - but we know we may not be given the same opportunity to play as expansively at Ibrox. Our style of play though suits the players we have at Elgin City so we will approach the game by trying to get on the front foot.
"There is always that need to be aware that they have players that can hurt us if we let them, but we do feel we have a game plan that could pose Rangers a few problems. But then every third division manager this season has thought that."
The manager meanwhile welcomed the decision to play the postponed league match against Rangers at Borough Briggs on Sunday, December 22 with a 12.30pm kick off.
He said: "That was the obvious choice with both clubs having a weekend date free and is very much better than having to play the game in a midweek. We can only hope now that the weather is kind to us, hopefully we can have a carnival pre-Christmas atmosphere on the day that will help make up for the disappointment for both sets of fans over the call-off last weekend."
Your report: If you have information on this or any other story, please let us know. You can send information, pictures to stuart.crowther@stv.tv or call us on 07753 786177.