Moray eco-village assists pioneering research on renewable energy
Pioneering researchers have selected Moray eco-village to assist in £2.3m project.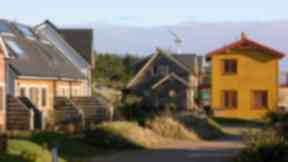 A pioneering project that could see savings of up to 40% on electricity bills is to be piloted by a world-renowned eco village in Moray.
Researchers at Heriot Watt University in Edinburgh have been granted funding of £2.3million from the European Commission to attempt to link community energy demands with locally-generated renewables.
Now a research team from the university will pilot their ORIGIN research project over a three year period at the Findhorn Foundation in Moray. The pilot will also operate in two other eco-villages, one in Italy and the other in Portugal.
The head of the project, Dr Edward Owens of the Institute of Infrastructure and Environment at Heriot Watt, will work with researchers from Strathclyde University and other academic establishments in Germany, Spain and Portugal.
Dr Owens said: "Thousands of homes and businesses have installed renewable energy systems in the last few years. However, often the energy is not generated at times of peak demand.
"Finding a way of matching periods of supply with periods of demand will create much more efficient energy systems."
The plan is to use 75 homes and public buildings at the Findhorn Foundation for the project which will be grouped together and connected by a new "smart energy" system. Residents at the Moray village will be asked to plan when they use energy to maximise use of the community-generated renewable electricity.
A resident trustee of the Finhorn Foundation, Michael Shaw, said: "We are delighted to be one of three eco-villages piloting the ORIGIN project.
"It will put the Findhorn Foundation community on the map as a centre of excellence for designing and building one of the most energy efficient and low-carbon environments in the country."
Your report: If you have information on this or any other story, please let us know. You can send information, pictures to stuart.crowther@stv.tv or call us on 07753 786177.