RAF Lossiemouth CO makes a right old mess of former Navy building
Final tasks in the £23m upgrade of messing facilities at Moray RAF base are under way.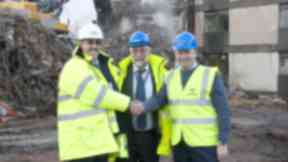 RAF Lossiemouth's station commander swapped his flight suit for a hard hat to become a temporary demolition man at the Moray base last week.
Group Captain Ian Gale was a willing volunteer when the time came to demolish the old Warrant Officer and Senior NCO's facility on the base.
Described at times as a "concrete carbuncle" but also remembered fondly as a centre for social activity, the building has been demolished following its replacement by a new state-of-the-art facility that was opened earlier this year.
A new £23million combined mess for junior ranks as well as senior non-commission officers was completed three months ahead of schedule by the Defence Infrastructure Organisation (DIO), replacing original buildings first constructed when the base was under the control of the Royal Navy in the 1960's.
Now the new facility has been well received by serving and civilian staff on the base, providing not only accommodation and dining facilities but a raft of retail and social amenities.
A great deal of material from the old mess will not be wasted however, as DIO Project manager, Jim Ellistone, explained: "Most notable about the demolition is the way the material contained in the building will be re-used.
"The clean timber will be locally recycled into chipboard and about 100tonnes of steelwork will also be recycled.
"In addition the majority of the brick and concrete from it will be crushed and used as the sub-base for the sports pitches the project is re-providing, the top soil for which has come the excavation necessary for the new building. I suppose you could say we have effectively moved the pitch and built a new Mess in the process."
Group Captain Gale donned the appropriate protective clothing and was allowed to sit in the demolition excavator as it ate its way through the building, an experience someway removed from the cockpit of a fighter jet.
The station commander said: "The new Mess is a huge leap forward in living and dining standards here at RAF Lossiemouth as the Station prepares for its future.
"This is tangible evidence of how a project should be run and also demonstrates that RAF Lossiemouth is investing for its future."
Your report: If you have information on this or any other story, please let us know. You can send information, pictures to stuart.crowther@stv.tv or call us on 07753 786177.