Elgin dancing queen 'mortified' after 100,000 watch Rangers camera clip
STV tracks down Jenny Bird, who didn't know the cameras were rolling when she strutted her stuff.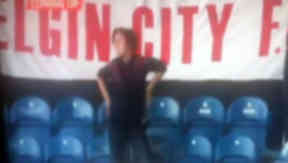 Scottish internet sensation Jenny Bird says she is "mortified" after being caught on camera dancing before Rangers cup game with Elgin City on Sunday.
More than 100,000 viewers logged on to watch her shake her stuff within 24 hours of the clip from Sky Sports News being posted on YouTube and the footage has now spawned several remixes with added dance music.
Ms Bird, who is a Nairn County supporter and helps out on matchdays, had travelled down to Glasgow to watch her old college friend and Elgin City striker Stuart Leslie play at Ibrox in the Scottish Cup.
Asked what she thought of the video clip, the 36-year-old told STV News: "I was mortified at first. I didn't know I'd been filmed. I never saw a camera."
It wasn't until after the match, which Elgin City lost 3-0, that she found out she had been taped. Another passenger on her football bus home showed her the clip on his smartphone but she "wasn't really bothered".
"The Rangers fans were chanting at me but I couldn't hear what they were singing.
"My mum's not very happy about it, but what can I say — you have to please yourself in life."
Though Ms Bird doesn't have a computer, friends in her hometown of Nairn have told her that not all of the comments on YouTube have been in praise of her dancing prowess.
"I'm aware of the comments," she said, "But I don't intend to look at it again. I've had a bad year and thought it was time to enjoy myself. There's nothing wrong with having a good time."
Unfortunately Ms Bird doesn't think she'll be able to take in Rangers postponed visit to Elgin on December 22 as it clashes with her Christmas plans.