£3m Aberdeen bypass archaeology project out to tender by government
Firms are being invited to bid for the project on the sites of the AWPR and Balmedie-Tipperty project.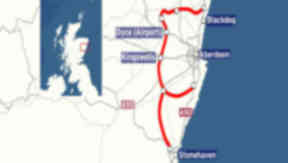 Specialists are being invited to tender for a £3m archaeology project on the sites of the Aberdeen Western Peripheral Route (AWPR) and Balmedie-Tipperty project.
The Scottish Government said the project could "reveal a glimpse of the past and vital information for the future delivery of the road".
The entire project will cost more than £745m with the near 30-mile AWPR joining the A90 from Blackdog to Stonehaven, while the A90 north of Aberdeen will be dualled to Tipperty.
Last week transport minister Keith Brown launched ground investigations at the sites.
Mr Brown said: "Just a week after I was in Aberdeen to see ground investigations resumed on the project route, our programme of on-the-ground preparatory works are being advanced significantly with the announcement of these archaeological surveys.
"By segmenting the archaeology digs, we are providing an opportunity for a wider group of smaller businesses to tender for the works individually, or as consortia."
The archaeological works are due to begin in the summer of 2013 and should take around 10 months to complete.
Leader of Aberdeenshire Council Jim Gifford said: "This tender represents another step forward for the AWPR and Balmedie-Tipperty project. This early investigation of the route will highlight any matters we will need to take account of as construction progresses."
Aberdeen City Council leader Barney Crockett added: "I'm sure the vast majority of people in the north-east will join me in saying how pleasing it is to see so much work being undertaken so quickly with a view to getting the Aberdeen Western Peripheral Route built as soon as possible."
The work will be carried out in four sections, covering the Balmedie-Tipperty dualling project, the Northern Leg and Southern Leg of the AWPR and the Cleanhill to Stonehaven Fastlink section.