Football club forced to remove saltire from badge following complaint
Formartine United's 53-year-old badge had to be changed or the club would have been prosecuted.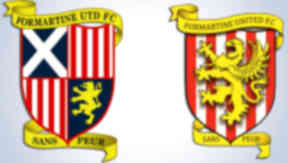 A football club has been forced to change its badge after a member of the public complained because it had a saltire on it.
Formartine United's 53-year-old badge was also deemed illegal under heraldic law because it was shield-shaped, quartered and featured a lion rampant, French writing, ribbons and the red and white stripes were too narrow.
After appealing to the Court of the Lord Lyon - the heraldic authority for Scotland - it was agreed that the Highland League side would be allowed to keep the shield, French writing and ribbons, but the saltire was removed and the red and white stripes have been broadened.
It has cost the Aberdeenshire club thousands of pounds to rebrand all their goods but club secretary Martin Johnston said more hurt had been caused to the fans emotionally.
He said: "It will be a sad day when the badge is completely removed from all items inside the ground.
"It was designed over 50 years ago and it represents everything about the club - but it's been taken away from us.
"We are very proud of our badge and heritage and it's only when we've been told to change it that we've realised how much we'll miss it.
"We lost the saltire which we were most disappointed about as we are staunchly Scottish."
In October 2010 a letter was sent by Aberdeen's procurator fiscal, ordering the Pitmedden club to remove the image from their website and all other material, including their strips.
After realising the notice was not a joke, they calculated that the order had serious financial penalties attached to it.
The club could either pay thousands of pounds to record their badge on the Public Register of Arms or pay to completely re-brand the team.
If they had refused, they would have been prosecuted and every item with the emblem would be confiscated.
Two years on, Mr Johnston said he had yet to find out who complained to the authorities.
He said: "The person who complained has never come out of cover to explain themselves.
"It's ridiculous, you look everywhere and Scottish Premier League clubs have shield badges. As do bowling clubs, tennis clubs - even lorries have them with saltires.
"We thought there's no way we're going to roll over and accept this, so we drove for a compromise and we're delighted we got one.
"But it's had a massive impact on our club, the badge is seen everywhere, whether it be on stationery, shirts or crockery in hospitality and we're having to spend a lot of money to change them.
"We are allowed to sell the current branded stock till the end of this season and I imagine some of the goods will become collector's items."
The new badge will feature on Formartine United's strip next season.