Aberdeen artist makes the most of the snow with octopus sculpture
Ulianka Maksymiuk started sculpting with snow to entertain her children four years ago.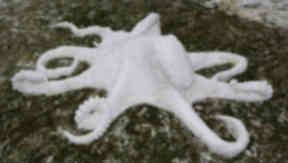 For many Aberdonians the recent flurries of snow have brought nothing but misery, causing traffic chaos, sub-zero temperatures and icy paths.
Yet for one resident, the white stuff has been welcomed with an artistic eye, morphing the slushy snow into beautiful sculptures.
Ulianka Maksymiuk took to her garden on Thursday to craft the recent sprinkling of snow into an impressive octopus, replete with curling tentacles and suckers.
The Russian artist has been sculpting with snow for four years and says each creation takes around two to three hours to complete.
The mother-of-two started morphing the snow into figures and shapes as she grew tired of simple children's snowmen and wanted to try something new.
"I wanted to do something different to entertain my children when it snowed and started sculpting instead of making snowmen" she said.
"I've sculpted frogs on cars, an igloo in the garden, a polar bear and cubs and a lady relaxing in the garden drinking a can of Coca-Cola!"
Although Ulianka was raised in notoriously chilly St Petersburg, in Russia, the 31-year-old artist says she only started creating the sculptures when she moved to Aberdeen, although the temperature and consistency has to be right to help the artwork stay together.
After a thick blanket of snow covered Aberdeen on Wednesday, the artist had to wait a little longer for the temperature to rise slightly to melt the snow a little in order to make the impressive octopus.
She adds: "Today it was slightly warmer and easier to work with the snow."
Ulianka teaches Art and Russian language at the Lomonosov Russian School in Aberdeen and is a respected local artist, having painted a variety of murals in public and professional places across the city.
And as the winter nights creep in and the temperature drops in Aberdeen, Ulianka will certainly have plenty opportunities to expand her repertoire of n-ice sculptures.
To view Ulianka's snow sculptures, take a look at our gallery.