Pupils get a true sense of history during tour of Moray RAF base
RAF Base lays on a very real look at local and national history for school group.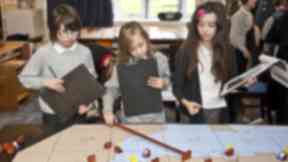 Children from a Moray school took part in a unique history lesson when they were guests for the day at RAF Lossiemouth.
The pupils from Hythehill Primary visited the station history room exploring exhibits and artefacts while there was also a tour of the Survival Equipment Section (SES) on the Moray airbase.
A popular attraction at the SES was a one-third scale model of a Spitfire, with base personnel on hand to demonstrated the survival techniques first developed for aircrew during the second world war.
Many of the techniques used today have changed little since the 1940's, but the equipment used has greatly improved and increases the chances of survival for aircrew.
During the visit at the history room the children participated in a quiz where the answers could be found among the exhibits, encouraging them to discover as much as they could for their project and ensuring that the visit had an element of fun.
Corporal Lee Whittaker, who supervised the visit to the history room, said: "The quiz that was prepared for the children was intended to get them thinking about various events connected to RAF Lossiemouth during the Second World War.
"They responded very well, asking lots of questions and really seemed to benefit from their time here in the history room."
After lunch all the children were transported to the world famous 617 'Dambusters' Squadron hangar where they had a close look at inert second world war bombs such as the Tallboy, Grand Slam and Upkeep (the bouncing bomb), followed by a visit to the squadron history room.
The children were given the opportunity look at some exceptionally important items from the squadrons past including Wing Commander Guy Gibson's log book from the famous Dambuster raids.
They were also shown around a Tornado GR4 aircraft which the squadron currently flies.
Flight Lieutenant Cole Brook, who hosted the school group for the visit to 617 Squadron, said: "The kids were thrilled to get the chance to take a look around one of our Tornados, their interest and enthusiasm is just great to see."
Accompanying the children was Hythehill teacher, Dianne Hemmings, who said: "We really are grateful to RAF Lossiemouth for organising our visit.
"The children were very eager on the walk down from the school and fascinated with everything they were shown, we all learned so much and had such a good time.
View more images of the school visit
Your report: If you have information on this or any other story, please let us know. You can send information, pictures to stuart.crowther@stv.tv or call us on 07753 786177.