Rare 'rainbow UFO' clouds spotted floating over Aberdeenshire skies
Nacreous clouds over north-east provide skywatchers with amazing light show.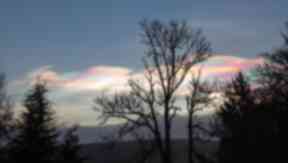 These mysterious, iridescent clouds are often mistaken for UFOs when they form high in the earth's atmosphere, but this is not the sign of an alien invasion.
The incredible technicoloured light show was created by nacreous cloud formations, sometimes known as mother-of-pearl clouds.
The rare phenomenon, viewed by hundreds in the north-east skies on Sunday, provided a vibrant and colourful light show which left many staring up to the sky in awe.
The event is triggered by the diffraction of light through tiny ice particles that are blasted some 20 miles up into the stratosphere by strong winds.
The unusual sight, last seen in the area over a decade ago, could be seen as far away as Inverness.
Keith McClelland, who lives in Kirkhill, Inverness said: "I have never seen anything like it. It was weird, like petrol on water, with the rainbow effect that you get but in the sky.
"When I woke up at 8am I thought that there was something wrong with my eyes but I called my wife to have a look and we went out to take pictures.
"We wondered what on earth it was. We have been to the Arctic Circle so we have seen strange phenomena in the sky before.
"We didn't think it was a UFO, like some people did, but we did think it was incredibly strange."
STV weatherman Sean Batty explained: "They are seen in the winter months but they are very rare, especially here.
"They form in the stratosphere due to tiny ice crystals; moisture that has entered when a strong wind pushes air up mountains. These ice crystals are blasted up, which creates the rainbow effect."
According to Sean, nacreous clouds are most visible shortly after sunset or before dawn when they blaze unbelievably bright with slowly shifting iridescent colours.